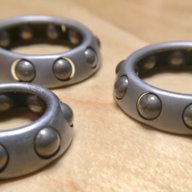 Jan 12, 2019
1,002
50
Arizona
@GTs58
I've been looking at the Brooks since I started this project. They are beautifully made, look the part, and are supposed to be comfortable, but it just wouldn't be Grandpa's bike. Kind of like putting lipstick on a pig. I like how ratty the bike is.
I've been trying to be patient, and have been keeping my eye out for an original "Lightweight" saddle that would have been on the bike when it was sold. The war-time Worlds mickeyc found last week had them but I'm not interested in buying a whole bike or 2 just to get the beat up saddles.
Others have said this saddle is not comfortable at all. But really, how much worse could it be than the old compacted carpet foam version of the Monogram S seat I just rocked for over 100 miles, or my MTB seat that has NO padding? I'd like to spend some time restoring a Lightweight saddle with good closed cell foam and new fake leather if it needed it. Might be good enough for me.
Still looking and thinking while I ride my restored Monogram S in matching maroon...