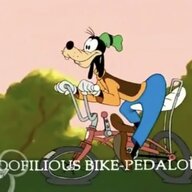 I'm the Wiz, and nobody beats me!
Aug 13, 2008
10,247
3,777
Here's the wrecked, cobbled together bike. I got it for free about May, 2011 I think. It was missing the tank, but had the trim panel on it still from the original tank. I found a tank from a Galaxie, swapped out the mangled fork for a bent (but usable) one and swapped out the busted front rack and I rode it down the street.
It looked like the scene from Christine, when Arnie Cunningham drives his newly acquired, but dilapidated, 1958 Plymouth home.
Sent from my SM-G930V using Tapatalk