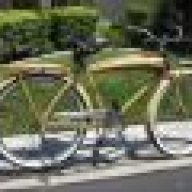 Wore out three sets of tires already!
Oct 23, 2011
856
Las Vegas
I'm doing sort of a flip on this old ladies 1941 Westfield Sterling. Just a clean up, re-grease, etc and hope to eventually sell. These rims are horrible!! The old chrome is just peeling off!
What should I do? I'm already into this bike for too much $$ as it is. New rims? Maybe just sand these down?
Any Ideas??