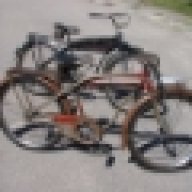 Wore out three sets of tires already!
Nov 22, 2011
920
Hingham, United States
Note: I'm now willing to sell just the Bakelite Horn button switch for $125 shipped. Or just the tank with no Horn Button for $175 Shipped . Or The price is $250.00 shipped for the Horn button with the Tank. in the USA lower 48 States. This is a from vintage ROADMASTER CWC bike. The tank is from a 26 inch wheel boys bike. I believe this was on a 1941 ish bike . This has a great looking & working Bakelite Horn Button. The tank has some paint loss / graphics .There is a small well matching paint touch up where the top of the missing graphics would end. There is some paint scratches . Theres some rust / surface on the inisde . That being said the tank is solid. The Horn does work the ground contact for the batterys will need some cleaning . There is a light truss rod indent on each side of the tank. Overall this is a nice tank for its age. I believe this was used on late prewar bikes & early post war bicycles. Please check the measurements in the photos to see if this will fit your application .I believe this to be a prewar tank.
Last edited: