Jul 6, 2016
1,206
3,006
48
Santa Fe, New Mexico
The below Huffman built Firestone Fleetwood Supreme arrived in Santa Fe a few days ago; thank you Brady
@Clark58mx
! I have been working on removing three layers of paint (green, burgundy, cherry red) to get it back to the original which is: O
palescent Maroon
with white head tube and decorative elements. I still have much more to do; the fine detailing always takes the longest with paint removal... The chain guard had its original chrome finish under the paint. Some of the below photos show the frame with an original paint 1940 Huffman Zephyr 3-rib tank I was trying out just for kicks.
I am trying to determine dating of the bicycle and have some questions for our CABE community. I am guessing late 1937. Unfortunately the fork has a period braze repair at the crown so the date code cannot be read. The rear hub has a G3 date code(3rd Qtr 1937) but the rims have been swapped out so maybe the hubs have been as well. In spring 1938 O
palescent Maroon
was an offered color for this model and the Wald #3 stem is illustrated as being used instead of the "
putter stem
." The bike shown in the advertisement also sports a kickstand which the below bike has but holes for a drop stand are also present. The rear drop stand mounting holes show paint wear so I believe the kickstand was added later and likely was not original to the bike.
My questions:
Does anyone have any original 1937 literature for this bike?
I would be interested in knowing if the
Opalescent Maroon
color was available in 1937?
When do kick stands show up on these bikes and what model kick stand was used?
Did Firestone ever sell this model with a chrome chain guard or was this swapped out or upgraded? Does anyone know what color the Delta torpedo light should be painted for this model (were they painted to match the frame color)?
What are the correct grips for Huffman built Firestone bikes?
I still need a few things to finish the bike: correct pedals: Persons Streamline, a 1937/38 Zephyr 3-rib tank, possibly a drop stand and clip, and proper grips. If anyone has the correct 9 hole rack with the book strap holes in original
Opalescent Maroon
paint I would glady purchase it or would trade; I have one in OG paint:
National Blue,
and another in black
.
Any help with these would be appreciated.
Thank you for all your help answering the questions so I can get this bicycle in proper running order.
Kindly,
Brant Mackley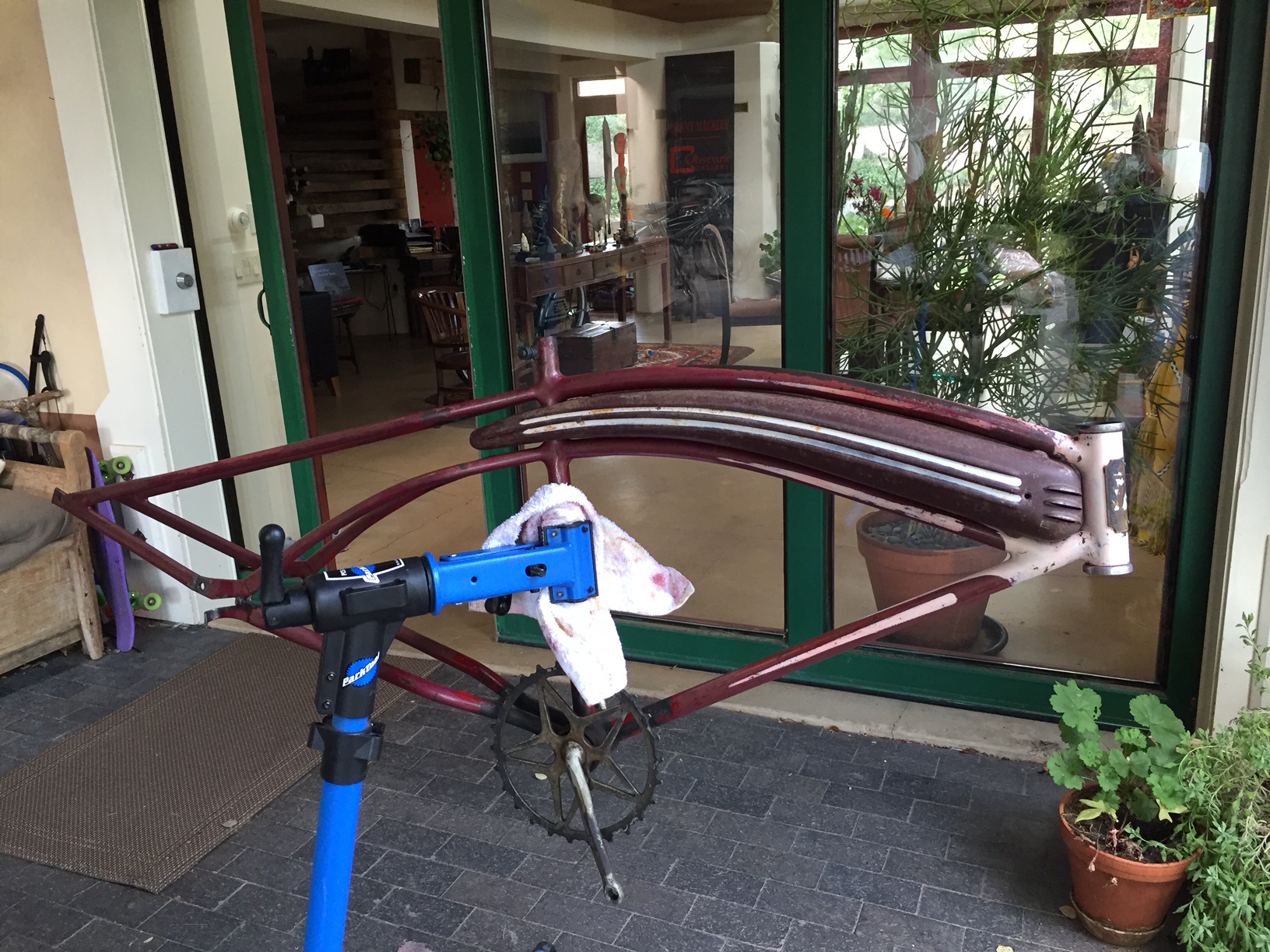 Last edited: