Riding a '38 Autocycle Deluxe
Sep 30, 2006
4,840
14
so cal beaches
all sold except bottom 2 lots!
Lots of sheet metal here...mostly for projects and most will need some body work etc....but not all!
1---- Schwinn D Model (Panther, Hornet, DX) Springer fender set. Painted blue ...look pretty straight
whatever dings and dents are minor. Looks like a minor bit of bondO? on the front fender in 2 spots,
pretty small area. Front fender has the Springer indents.
Good for a project or rider. 40.00 Plus postage for the pair
Bobcycles@aol.com
or PM here
Lot 2----
Postwar "B" Model (Phantom , Autocycle , B6) fender lot. Red and white repainted front fender is the
WIDE 1940s era "B" model front fender that was designed to fit the postwar 1940s Tubular truss fork...
very straight and no issues other than ugly paint. B6 fender is powder coated and has some dings
and dents that will need addressing...Springer application front, definitely needs body work but is a
pretty solid but dinged up B6 front. The rear is pretty decent, also powder coated, some extra
holes drilled but not many and small.
The whole lot is 45.00 OBO plus Add shipping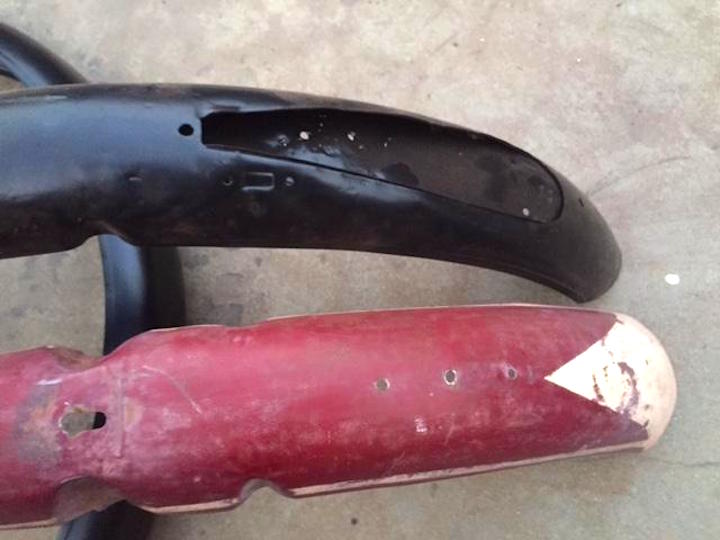 Lot 3------
BIG load of mostly rough but a few useable Prewar mid to late 1930s prewar Schwinn autocycle and Motorbike
fenders. Red fender on top is First year "fender light" or phantom style light front fender 1940. Someone had
patched the 'keyhole' fork mount (for truss fork) and drilled a hole for springer mount (in the correct location)
they went to some considerable effort brazing a patch on the truss fork hole. Fender looks very straight,
just ugly red repaint.
Top to bottom....#2 and #3 are Rear 1936 and up Auto-cycle / motorbike. Damage to the tails and missling
a front mount tab on the black one... Indeed rough projects that could be fixed with some major effort
and a little fabrication.
#4 is a very decent ladies rear with fair marroon paint....can work on mens frames, just patch up the skirt holes!
#5 and #6 are basically lost causes...maybe "rat rodable" but missing some sheetmetal and very rusty
they are 1935 double diamond fenders....or were.
7 and 8 are very rough and rusted prewar fenders..7 is a front and maybe salvageable...but heavy rust..
8 is a rear late 1930s and very very toasty.
All in the lot for 50.00 plus add postage.... red fender should be worth that alone.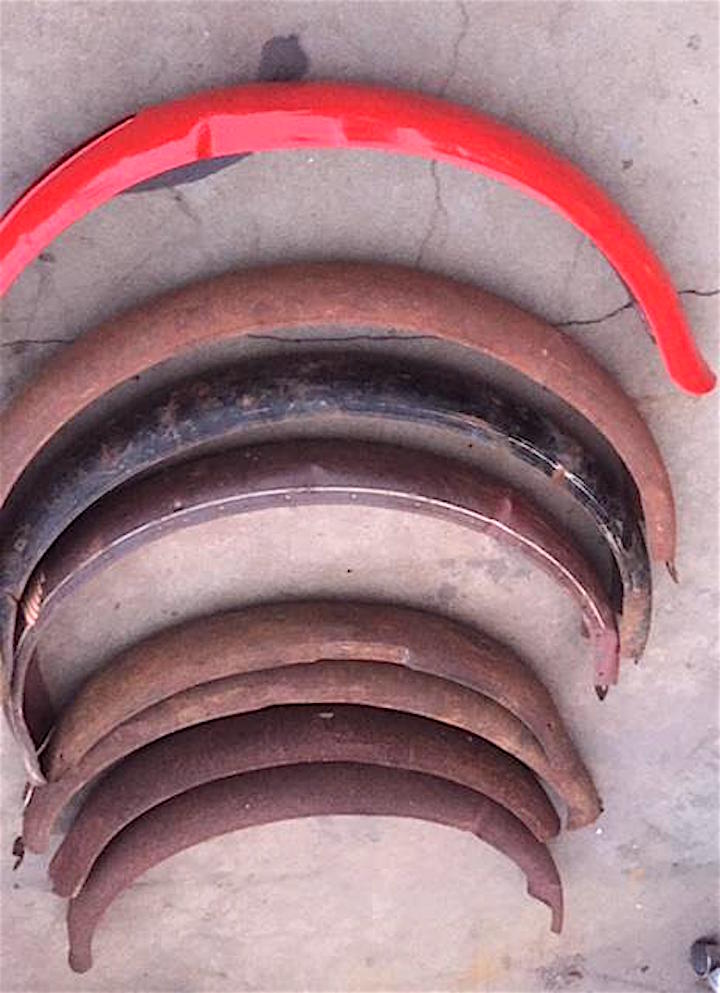 Lot 4-----
Post war B Model (B6 Phantom Autocycle) Schwinn post war group. 2 fender light front fenders... one for Tubular truss fork, and one for springer
fork. Lots of dings and dents and some minor rust holes that could be patched and filled. Both are powder coated black
so the damage can be clearly seen and addressed. The rear is a B model (with flair) B6 autocycle phantom etc rear that is
in pretty decent shape overall just some surface rust and ugly paint.
The lot is 45.00 OBO for 3 as you see them...plus add the postage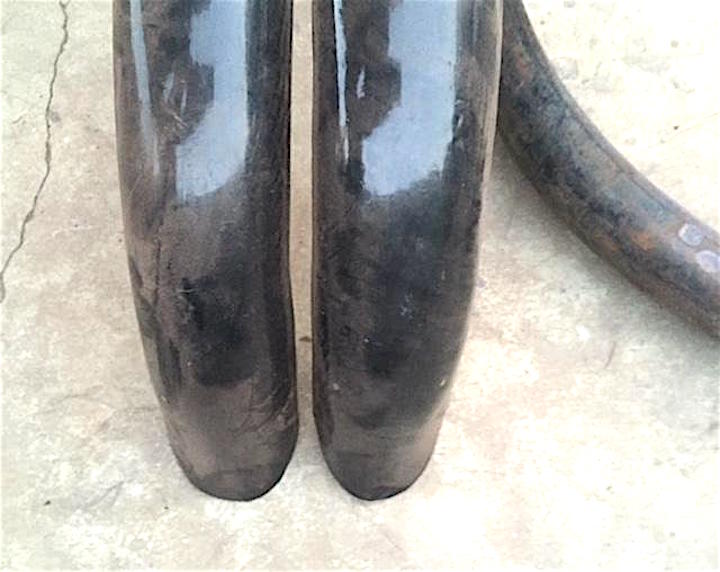 Lot 5-----
Miscellaneous newer Schwinn and Wald fenders....most likely 80's through 90's or more current. Some are in
decent shape just surface rust etc. A few rears with flairs (1990s? -2000s) chrome Wald fenders ...the
good, the bad and the ugly. Mixed bag ideal for custom projects when you need some material to start
something 'different'. All in the lot for 35.00 plus add the postage
bobcycles@aol.com
---------------Also may consider a reasonable offer on the entire lot....!
Last edited: