First up the lot below. 2 original (not repro) Quality seal decals in poor/fair shape?
you might be able to clear coat and use these but no promises ... Schwinn Spitfire, Starlet
and Schwinn New World/ Traveler etc NOS FULL vintage 1980s Phantom reproduction kit as well.
25.00 for the lot plus flat rate postal
msg here or email
bobcycles@aol.com
1950s Schyinn NOS decals...including Starlet Meteor and reverse
transfer decal? Possibly T shirt iron on? Plus 2 original poor/fair
shape quality seals 30s-50s...Schwinn Spitfire and Deluxe Spitfire
all are original.... Maybe useable but no guarantees.
15.00 plus postage on all.....
Big lot of various 60s-70s Schwinn decals including starlet, spitfire, breeze
super sport fair lady etc.
Originals as found ...possibly useable...no guarantees
15.00 plus postage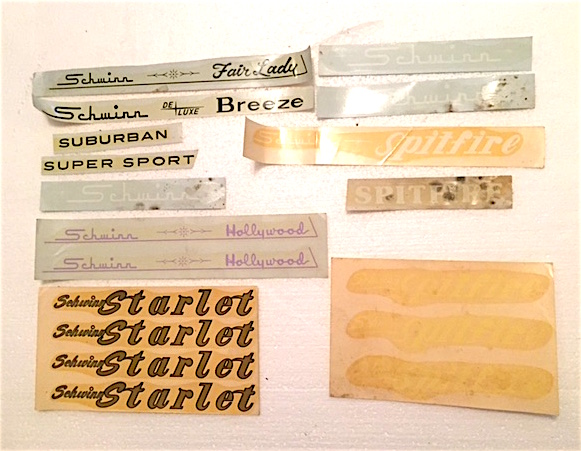 GIANT Lot of Schwinn 60s and 70s decals various models... as found
No guarantees they will work ? Vintage water slide decals all you see below for
25.00 plus postage.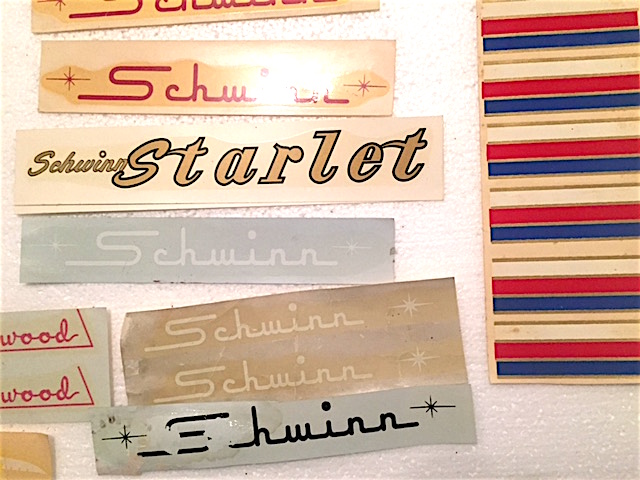 HUGE Lot of 1970s and 80s vintage Schwinn decals....As found.
No guarantees these will work but appear to be in very good condition!
various models....
Last up
Prewar complete RANGER decal set including seat mast decals
Four in all
35.00 shipped!
bobcycles@aol.com
or msg here
Also open to offers on the entire above lot....