Finally riding a big boys bike
Example of Huret lever actuated front derailleur. These were called 'suicide' shifters before that term was identified with down tube mounted shift levers when they came into more common use.
I am used to manually changing front rings due to not using a front derailleur on many of my bikes so this is safer than that method (easier too!). So far this is the earliest version I have seen of this Huret style with a couple of variants made into the mid '50s. I have yet to verify the year of introduction of this model, but the follow-up design has been found in advertisements/brochures as early as 1951, and I don't believe it was made prior to or during WW2. If anyone has information about this derailleur I would appreciate you sharing your knowledge for the good of all. I am using it as a replacement for a late '40s Simplex lever actuated pivot derailleur (I will post photos of that later once off and cleaned up) since the Huret unit maintains the proper geometry of the cage to the chainring; the Simplex when pivoted out angles the cage and reduces the chain clearance within the cage. The Simplex is odd for another reason; it was made in Italy and not France, I don't know why; it is identical or nearly identical to the French model I have seen except for the obvious Italian patent "brevetto" and the fact that it is stamped "Made in Italy" on a cap also stamped "Simplex".
The unit operates similar to a horizontal push rod derailleur except the cage sides back and forth on a fixed control rod as opposed to the cage being fixed to a rod with the rod sliding back and forth to change the cage position. Helical grooves in the lever knuckle interior engage two tabs on the cage as to affect inward and outward movement. The degree of pressure required to move the lever can be adjusted via two nuts which can be locked together after setting the the desired friction level on a couple of spring steel thrust washers. Horizontal and vertical alignment can be done via the clamp. Position of unit from the frame requires spacers if you need to set the max outward/inward position of the cage depending on BB spindle length and crank/chainwheel configuration
The cage is of a two piece open design. Lever and cage plates are made from nickel plated bronze; all hardware, clamp band, and clamp stud/control rod are steel. Quality is quite good with very little free play in lever and cage after years of use. Cage internal width 9mm (Simplex is about 11mm, but reduced by pivot angle); cage lateral travel 7.5mm. Weighs in at approx. 171g; not too bad considering with a more modern unit there is additional weight due to the shift lever assy and cable (cable operated vintage aluminum/steel high end FDs run about 90-110g sans cable, lever, and braze-on or clamp). Max ring difference is unknown; trying out a 53T/42T with an old Campy steel crankset so I'll find out if it can handle that set-up for starters.
I was able to increase the lateral range of the cage to 8.5mm by adding a spacer(s) between the end cap and the end of the control rod. I can increase it to 9mm if necessary, but any farther causes the tabs to disengage enough from the slots in the lever knuckle which affects smooth movement of the lever when shifting the cage inward. I think the 2 to 2.5mm extra range should be enough to cleanly shift between rings at 6 to 6.5mm spacing. Now to mount and test.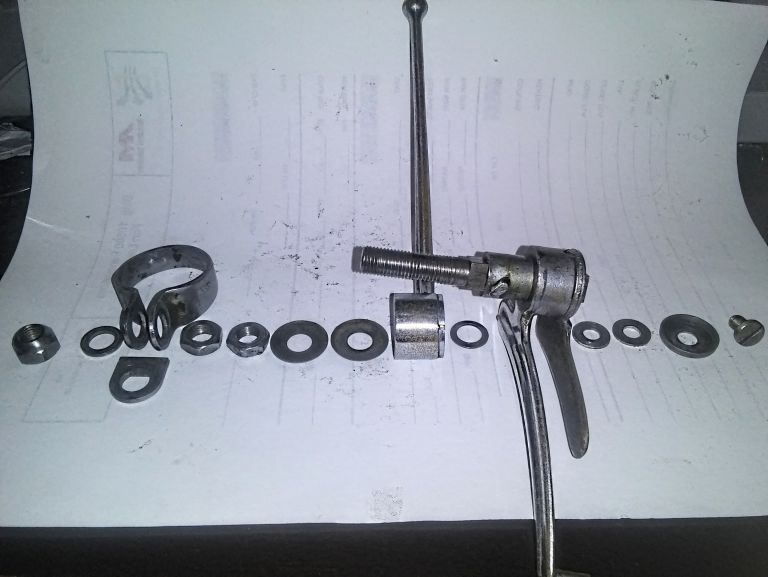 Hope everyone is doing well; I have been busy with hospital work and unable to contribute for a bit.