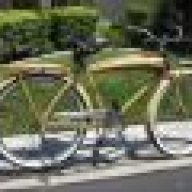 Wore out three sets of tires already!
Oct 23, 2011
856
Las Vegas
Doug, you're a lifesaver.

Two of my retainers are the "finger" kind (see pics above, with the sprocket). The one in question is a solid ring with circular holes in it (reminds me of a UFO) ...BL they are different.
The one in question holds 10 bearings
The retainer on the sprocket has 10, the small one has 8 (see pics above).
Why not use the old bearings and retainer, they look fine.

I will see about trying w/o the retainer and getting some new bearings.