Here is the original listing from eBay in 2005…….this is a Bob U. bike.......
"This is one of the rarest Post War Deluxe Schwinn's ever produced. VERY few of these "fat bar" straight bar BA-107 Autocycles are out there at all, in ANY condition, let alone immaculate like this example. This is a super rare "I": serial number bike that shows its original paint very well for the age. It has been assembled from the best parts and the best NOS parts available at the time, and what is here is very hard to find these days. This bike is for the serious collector who wants an extremely rare post war bike that makes all the Phantoms, Panthers and B-6's look mundane. Original Green paint of frame, fork and guard is very strong for the age, I would rate it a C-7 easily for a 40's bicycle. Bike comes with an original Arnold Schwinn & Co. "Yale" key for the cycle lock on the fork. The NOS list of parts is impressive and as follows: NOS Schwinn B Model fender light fenders. NOS! Including the light, tray, lense, rear faceted reflector…the whole shebang! NEVER on a bike until removed from the factory paper and installed on this bicycle. Same goes for the 6 hole rear carrier, some shelf wear from years of storage in the brown paper, but had to be assembled to go on the bike. The seat is a deluxe B-1 Messenger saddle…NEVER before on a bike and came from a large NOS estate auction in Reno Nevada a couple years back. MINT Chrome Torrington scripted handlebars were pulled out of the factory paper and installed, Schwinn Deluxe Big Oval Grips are also NOS. Early Hi-Lo front brake came from a well known collector in KY. Bob Snyder and was never on a bike and is also NOS. Shoes everything! The super rare Lobdel, pre S-2, wheels for early Schwinn post war bikes are also NOS as are the spokes and nipples. The horn tank is a super nice original paint PreWar Straight bar tank with the threaded brackets as most of these early post war bicycles had. Horn is a rare Delta Prewar and was an NOS horn when found a few years back. Tires are used but original B.F. Goodrich white walls that are rideable. Pedals are super minty restored original Torrington 10's with excellent end caps and beautiful Nickel plating. The spindles are NOS as are the blocks. Just try and go out and find this model for sale in GREEN and in this condition. Can't be done, I know of only one other in the hobby. You can buy all the Phantoms you want at bike shows, eBay or wherever…Try and find a Schwinn Deluxe Autocycle like this and you will give up trying. If you are ready to add an incredible post war rarity to your row of bikes or just want one awesome original, don't sleep through this auction. Winning bidder to pay actual shipping cost. Sorry this bike is not leaving the country under any circumstances. There are very few examples of Schwinns' manufacturing prowess in collectors hands these days that represented what this country could once produce. Let's keep what we got here. Thanks for looking."
I would add that the bike is 55#'s of cool American steel. I acquired the bike from a local collector who purchased it from eBay in 2005. After typing up the description above I want to keep it, so the price is firm. This bike has been in storage since 2005 in a controlled environment and is in excellent condition and rides well as it sits. The front brake needs an adjustment and that's about it.
$4150/picked up & $4400/shipped
, shipping this bike in good condition will require some hours and skill, and maybe two boxes, and I have all of that covered. Payment is via PayPal friends & family or add 3% for goods and services protection. I will ship asap upon PayPals ok. Questions welcome. NEW PRICE $3500/picked up & $3750/shipped.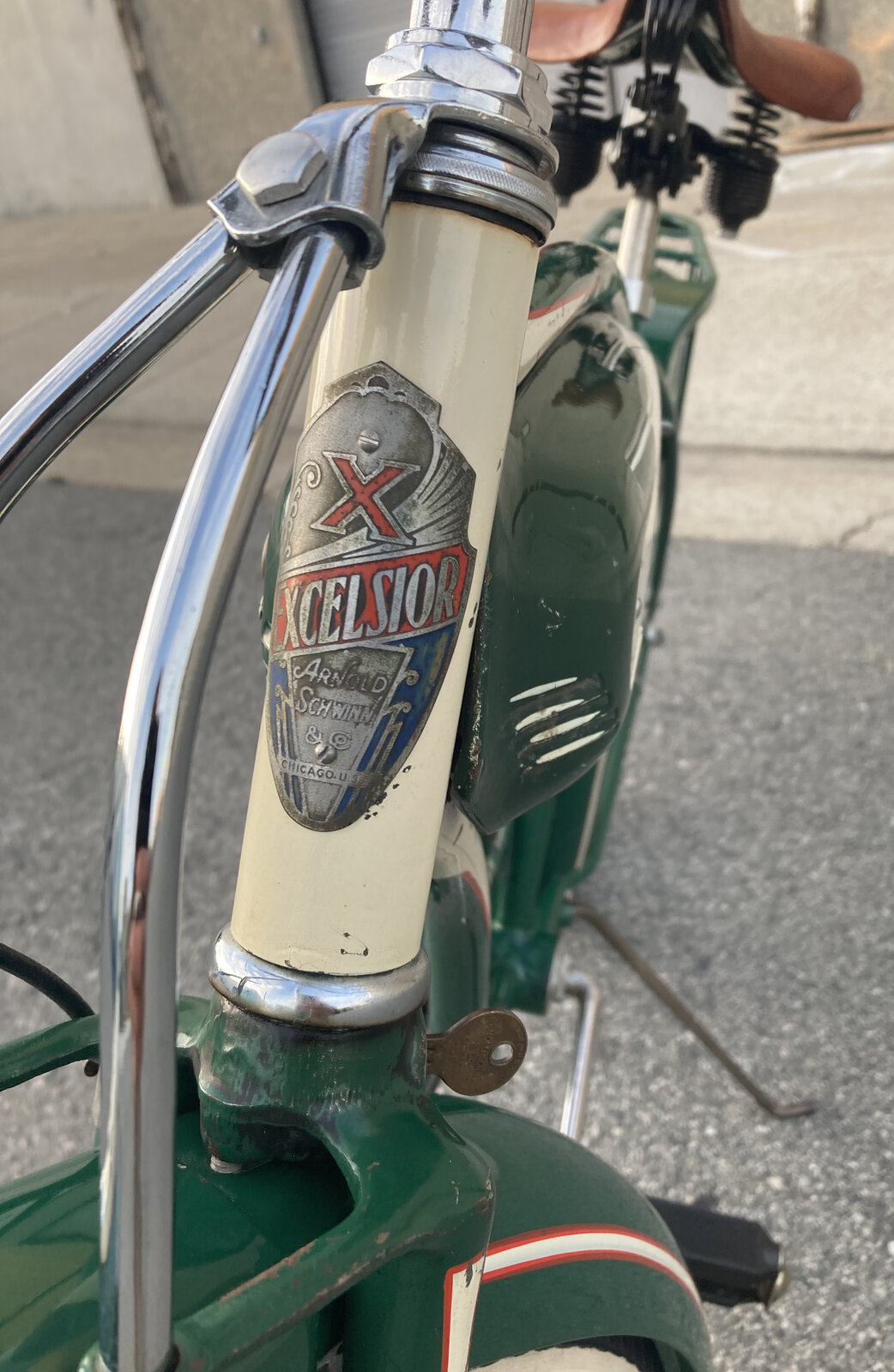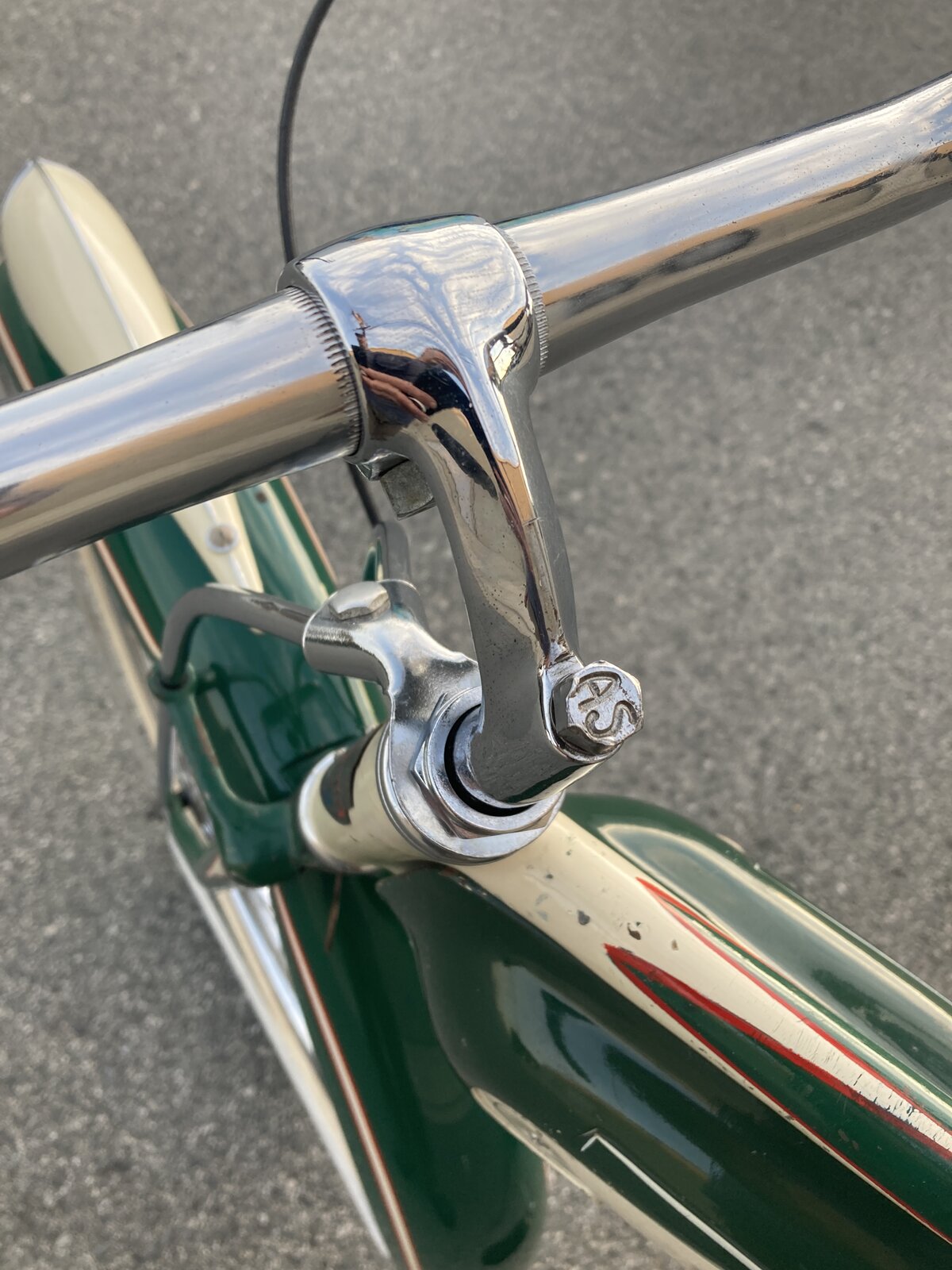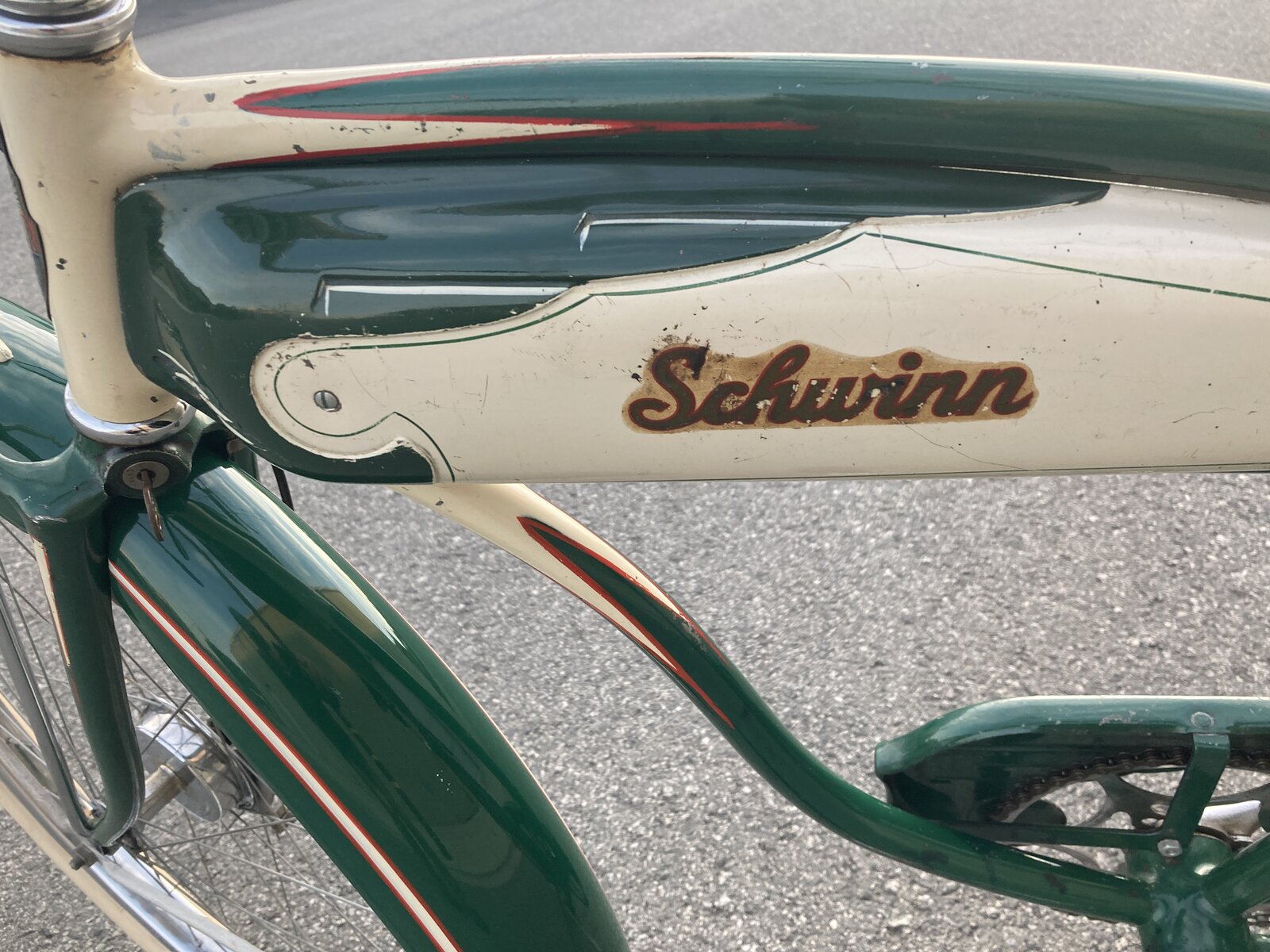 Last edited: