Dec 2, 2017
96
60
40
Bakersfield, CA, United States
Ive got a few questions regarding a set of wheels ive had on my 'Panzer', custom straightbar postwar project. I got the wheels from a local guy about 10 years ago, who was a whizzer mechanic/ restoration expert. After making arrangements to meet at his storage unit, my friend and me bought just about everything he had, which consisted of a 30s colson, a 30s belknap, a roadmaster whizzer frame, a western flyer whizzer frame (both postwar as far as i could tell), along with a cubic sh*t-ton of premium parts.
I cant remember exactly, but i want to say that he told me that this wheelset was exclusively produced for use with a whizzer: with the thick spokes, brass nipples, WD front brake, etc. and that they were on the roadmaster that was set up for the whizzer engine. The rear hub is a ND "D", i believe, and i put them on my project bike because they looked mean, heavy duty, and of course, the front brake.
,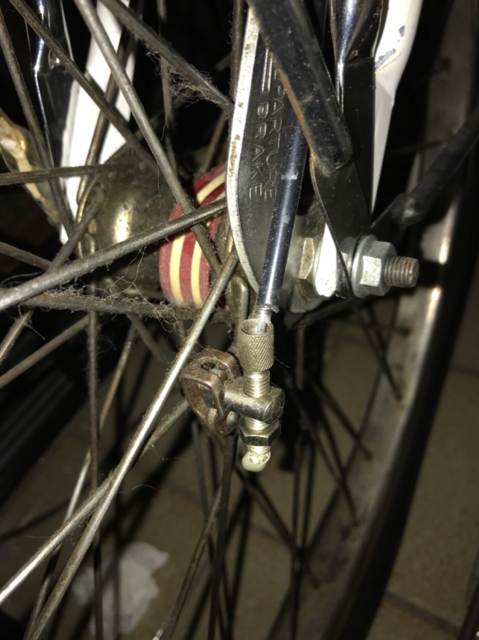 ,
They spin freely, and work great-as a pair of regular rims. I have not been able to get the brake to function properly for some reason? When i pull the bottom arm upwards, it locks, albeit kind of sticky feeling. I have never been able to locate the correct cable, and cable parts that go with it. Can anyone help?
i.d. like to know:
1) if this set would be suitable for my 36 motorbike whizzer project, or should I leave them where they are
2) what pieces am i missing to make the hub fully functional again
3)does anyone in California do work on these WD front brake hubs?
4) where can i purchase the missing parts?
Once again, many thanks to my CABE family for any/ all help! Happy holidays,
Kevin
@Kevauxtonic
Sent from my iPhone using Tapatalk