Hello I'm Jack from The Netherlands.
Today i've finaly got my second J.C. Higgins bike.
This time it's this mens bike.
Which i've spotted for the first time a few years ago, in my hometown 's-Hertogenbosch in The Netherlands.
This was during the time that i was restoring my J.C. Higgins ladies bike, which you can see on the following page.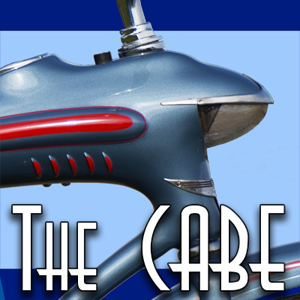 Hello i'm Jack from The Netherlands. For my 50th birthday, i've got this bike from a friend of mine. I've been asking around, about which year this bike could have been fabricated. The most given answer was early 50's, i hope this is correct. After googling a lot, i decided to...

thecabe.com
About 2 years ago i've tried to buy this bike, from the guy who was the owner @ that moment.
He did use this bicycle as an advertising object for his restaurant @ that time.
(You can still read the text for his restaurant, on the side of the rear rack.)
And he was willing to sell the bike, but we couldn't agree on the price.
Today my son texted me about this bike, telling me that.
His girlfreind did have contacted the owner of the bike.
They wanted to buy the bike as a christmas gift for me.
But because they don't know, what to pay for a bike like this.
He asked me what i did offer for it, when i tried to buy it.
A few minutes later, he texted me that they have bought the bike for me.
And now i'm the owner of this bike.
They finaly have payed € 30,00 for it, which is about $ 34.00.
What's the same $$ as what i've offered before, when i tried to buy the bike.
The bottom bracket shows.
MOTS W (i think)
MOD 502 45460 (pretty sure of this)
177111 ( for sure)
If there somebody out here, who can tell me what these numbers mean.
I would apreciate all information.
I will post better pictures asap.
Like to hear what you think about it.