Finally riding a big boys bike
On June 9, 1944, Schwinn received the Army-Navy "E" award for excellence in manufacturing. Only a small number of American manufacturers involved with war production products received this award. High quality, timely delivery, and nearly zero defective items were some of the requirements to win this award. This award was presented at the Schwinn factory in Chicago to Ignaz and Frank Schwinn. Schwinn employees were also present for the ceremony. I've tried to put the photographs in chronological order and included details to the best of my ability. First photo. Ceremony beginning, Ignaz and Frank have just arrived, and are still holding their hats.
Photo 2. Frank is at the podium to give a speech.
Photo 3. Frank, addressing Schwinn employees.
Photos 4 5 and 6. Schwinn employees, the people who built the bikes we cherish today.
Photo 7. Lunch is included. Above the cigarette machine is a poster for Schwinn dance with a gala floor show at Harmony Hall 4359 Thomas St. To the right of the cigarette machine is a chalkboard for a tournament baseball game, the Schwinn Bikes versus the American Coeds, June 14, 7 PM. Location "across the street".
Photo 8 and 9. Pictures of Frank with a twin 40 anti-aircraft gun. To the right, a remnants of Japanese aircraft shot down with the weapon. One sign says "propeller blade of Jap fighter" another sign says "wing section of a Japanese Oscar fighter plane shot down by anti-aircraft fire". In the foreground is the E award banner and in front of the banner are cases of 40 millimeter munitions courtesy of Schwinn.
Photo 10 and 11. Ignaz and Frank receive there E award medals.
Photo 12 and 13. The banner displayed in front of the group and the banner over Frank's arm.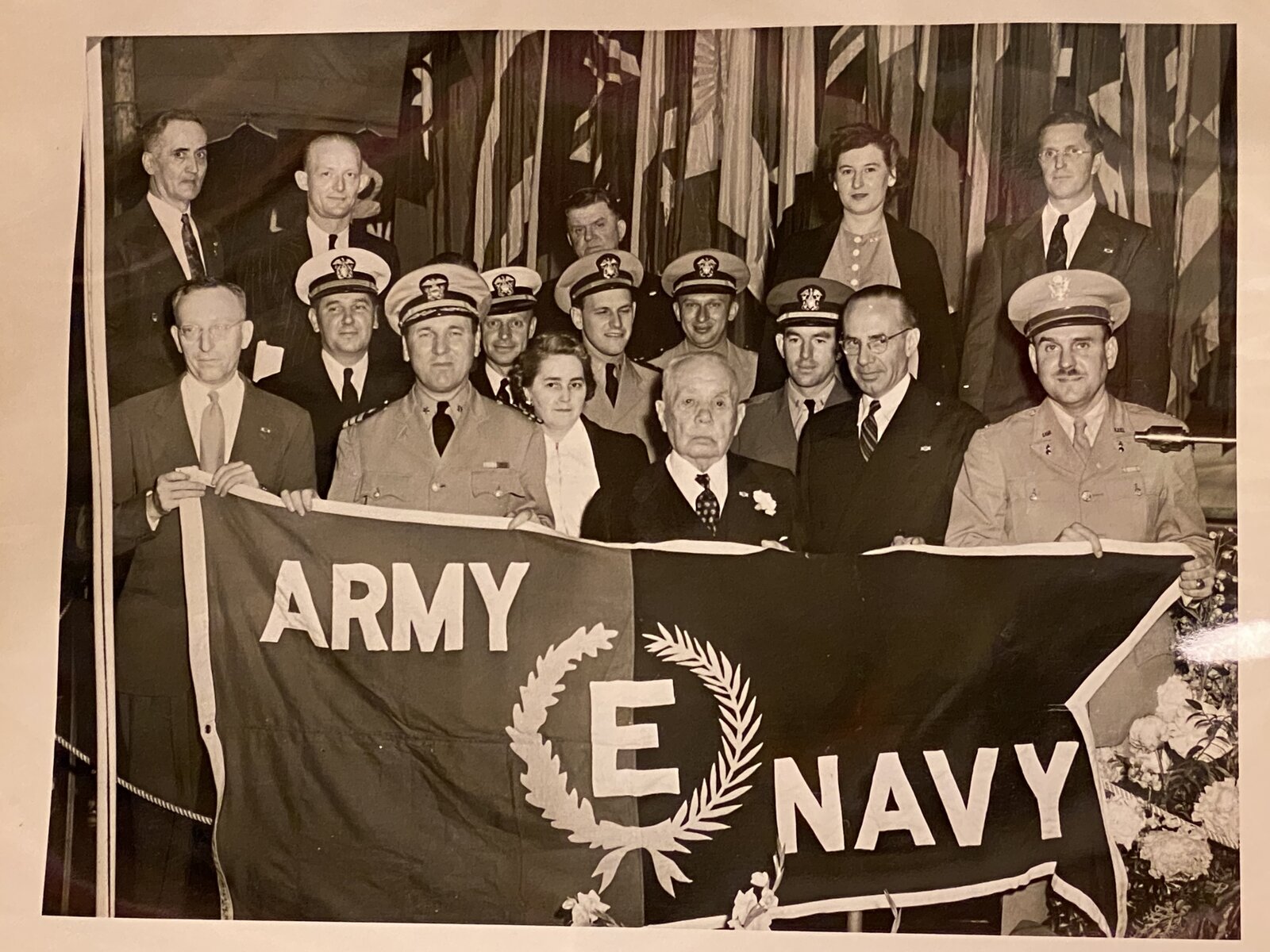 last picture. End of the ceremony. Can anyone identify the distinguished lady? Could she be Frank's wife? Thank you, Mark.
Last edited: