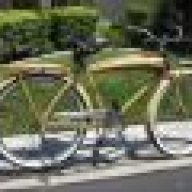 Wore out three sets of tires already!
Oct 23, 2011
856
Las Vegas
I won her on The Bay! I REALLY wanted that light for my Westfield (Thanks for the lead on this auction Talewinds, I owe you a beer), but the seller wouldn't part it out. However I think it's kinda a cool bike. What do you guys make of it? Any history on the type or info? What's with the girl's face silhouette?
Paid up and arranging shipping now. Will get SN when she arrives.
Thanks,
Buster