Wore out three sets of tires already!
Last year on October 30th, 2021, I purchased this 1952 Schwinn Hornet for $40. I had always wanted to build a custom Schwinn straight bar, and this was a prime candidate for such a build. The frame was nice and straight with no damage or rust holes, the chain guard was in decent shape apart from a few small dings on the backside, and the rest of the parts, aside from the fenders, looked to be in good shape as well.
Just one small problem though: I was torn about modifying a bike with such nice original paint and patina. On one hand, I liked the patina, but on the other hand, I was not a fan of the color. I wanted to paint this bike a different color, but I was hesitant to strip away the original paint job with the scallops still intact. So, to hopefully dodge a tough decision, I decided to try trading this Schwinn straight bar for one I would not feel so guilty about modifying at the 2022 Springfield, Missouri bicycle swap meet. Unfortunately, I didn't have too many people ask about the Schwinn, nor did I see any other Schwinn straight bars out at the swap meet. Between that and all the folks on ratrodbikes.com and thecabe.com suggesting I build this bike the way I wanted, I chose to keep the bike and build it whatever way I saw fit.
Well, just last week I was stuck trying to come up with some ideas for illustrations. I figured if I started with a "safe zone" (like sketching custom bicycles,) then it might lead to more ideas for commercial illustrations. So, I decided to play around with some ideas my 1952 Schwinn Hornet. I dug through loads of bicycle and custom car photos I had saved to my computer, looking for any inspiration I could find. Ironically, what really got the ball rolling wasn't the dozens of photos I picked out after spending a day or two browsing around on my computer; it was a couple Hot Wheels cars I had sitting on the radio receiver 6 feet behind me!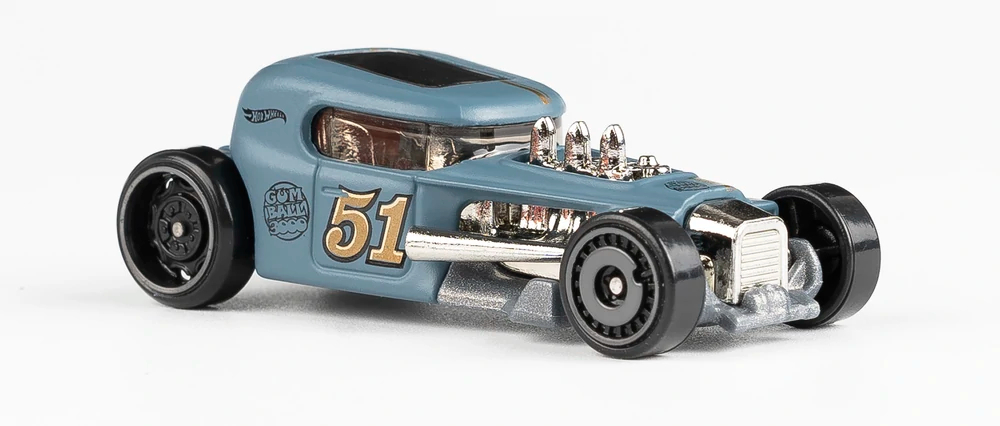 Specifically, it was the slate blue-and-gold Mod Rod and Erikenstein Rod I had that gave me the whole vibe I wanted to shoot for: a classic hot rod wrapped in modern race-spec fabrication! These 2 little toy cars, along with this sick
1937 Dodge truck I found on Speedhunters.com
and this wild Model A Ford I saw on Hoonigan, all gave me the inspiration I needed to decide on the direction for this Schwinn.
Here's the first sketch I came up with. Granted, not everything is to scale, but the general gist of what I want to do has been established. I want to stretch the wheelbase out a few inches in both directions using dropout extensions in the rear and a modernized take on the classic flipped Schwinn springer fork up front. On the springer fork itself, I want it to look like it was build by a race car fabricator, with tightly curved tube bends and aluminum filler panels with dimple-died holes. Instead of the classic chrome spring, I want to use a spring and shock absorber from a mountain bike, to help emphasize the modern race appeal. A pair of modern LED lights will illuminate the way forward during night rides. The dimple-died holey aluminum panels continue on the tank and chain guard as well. For the tank, I decided to "draw outside the lines" by having the tank flow over the front of the straight bar, sort of like the tanks on some deluxe JC Higgins bikes from the 50s. The chain guard would receive an aluminum filler panel as well, riveted to the existing chain guard. I'd use a modern BMX chainring and some BMX or mountain bike pedals to help continue the "modern hot rod" flair. At the rear would be a bobbed Monark deep dish fender. The bike will ride on either a pair of 24" or 26" x 3" tires, with either Mooneyes wheel disks or a custom set of painted disks to hide the spokes. I'd also use a pair of number plates or hub caps to hide the drop out extensions. As for paint, I'm thinking metallic gold strips on flat or stain slate blue. Odds are as I build the bike, I'll have to redesign elements to fit the actual bike, but this is the whole vibe I'm shooting for.
That said, I did come across this green and black version of the Mod Rod Hot Wheels car, and I may choose to go a similar route when painting this bike.
Now that you know how I
want
to build my Schwinn, I now have to tell you how I'm
actually
going to build my Schwinn, at least for now.
See, thing is, I'm currently what you may call "financially-impaired." I don't have the funds to build such a wild custom bike right now. That said, I do still have a little loose change left to spend on my bike projects. Better than that, I've got a decent inventory of bike parts stashed away that could help get at least one or two of my bikes back to riding condition. So, what better way to utilize those parts than to use them to get a bike or two rideable once again?
Here's the plan: there's this lowrider/cruiser bike ride that supposedly happens every last Sunday of the month here in Tulsa, Oklahoma. The last Sunday of this month is on the 30th of October. I bought this bike on the 30th of October last year. I want to fix this bike up in time to ride it around Tulsa with this lowrider/cruiser bike group a year after the day I brought it home! Only one problem: I have never built a bike this fast before. At best, I've rebuilt a bike in 4 months. Now I'm about to try building one in a literal week to 10 days!
That said, I feel a lot more comfortable building bikes after
my last project
, and I should have enough useable parts to get this bike rideable in 10 days. I already disassembled most of the bike, so I know that the bearing cups and races are good enough to use, and the bearings appear to be salvageable, if my ultrasonic cleaner can remove all the crud off of them. I'm either going to ditch both fenders, or just use a bobbed rear fender. I've got a set of used 26" x2.35" cream-colored tires on some late-model Huffy wheels that I think will go with the bike's original paint and patina well enough. I've got a few handlebars and stems that would look good enough on this bike, and I have plenty of 1/2" pitch chainrings to choose from to replace the original skiptooth chainring. I've got at least 3 options for seats to choose from, so I can still ride in comfort. The only part that I may need to buy at this time is the chain, which I can get for less than $10 at Wal-Mart. I can't really use the original fork at this time (still got handlebar stem bits stuck inside,) but I've got a few springer forks to choose from: one classic Schwinn springer, one reproduction Schwinn springer, and one Murray rat trap springer. If I use the classic Schwinn springer fork, I won't have it raked forward like I have it in the photos below, as I need a 90-degree springer fork ring for the fork to fit properly. If I use the Murray rat rap springer fork though, I could rake the bike forward. I'll just have to see what I like best.
Here's one of the bottom bracket bearing cups before a quick wire brush cleaning:
Here's the same cup after cleaning it with a wire brush:
Here's the issue with the flipped Schwinn springer fork I mentioned earlier:

Here's a couple photos of some mockups I did after coming up with my ideas for this bike. First with some plywood dropout extensions:
And finally, a mockup closer to my current plans:
So, what's my plan for later today? (It's already 1am at the time of typing this.) Well, I'm going to dig through my stash of bike parts I have stored out-of-town for more bearings and bearing cups. I'll also look at some other handlebars I have stored away to give myself a few more options. I'll also try to mock up both the unflipped Schwinn springer fork and the flipped Murray rat trap springer fork to see which one I like best. I'll also try to clean up the bearing races/crowns, and maybe remove the paint from the fork(s) using a few tools at my dad's shop. I might knock out a few other things if all goes well, but we'll see.
So, without further ado, let the mayhem commence as I attempt to build
The Ratical Rustin' Hornet
in 10 days or less! This is going to get wild!