OK, so I made a purchase truly out of character for me and I know it is something not a lot of my CABE friends will follow but going to post it here anyway so at least I can keep track of my progress on it. Number one it is not made in the good ole USA and number two it is a road bike.
This last year I realized I have to get some weight off at 252 lbs. and 6 ft. tall so I need to ride a lot more. At 52 years old I am out of shape & time to face it head on. I live in a very hilly area where a heavy single speed doesn't cut it so I needed something lightweight with some gearing but it had to be "vintage". I thought of buying a lightweight Schwinn bike like SirMike1983's 1947 Schwinn New World lightweight and then I saw CABE member Jackomeano's late 1950's Girardengo road bike and fell in love with it. The twin top bar frame, the magnificent lug work, 1950's Italian styling, good carmine red paint, and decent graphics including an Olympic Rings logo (I love the Olympics) for a 1950's era bike to me were absolutely beautiful. Never thought I'd find one but started looking at ebay and low & behold jackomeano's Girardengo showed up. I knew he loved the bike so was surprised it was for sale. Anyway I bought it at a very good price.
My next issue with buying another bike right now was my Wife!!!!!! With three projects going on I knew my wife was going to kill me but I actually got away with buying this one by using the exercise excuse which in reality is true. She would definitely like to see me get a little healthier. So, she didn't kill me, thank God & no argument over the purchase of this one!!!!!!
As many of you know I can't leave things alone, it has to be me or more appropriate set up for my tastes. This bike has had most of it's components changed out over the years to newer or new items. The only things left from the fifties are the frame, fork, and rear Campagnolo Sport derailleur. I will be changing all the components out over time as money permits to vintage Campagnolo items from the fifties or at least sixties era. It will get & retain some modern items though as this bike will be ridden often. To me this bike is truly a work of Italian styling art so all changes will bear that in mind to insure it retains that character. Here are my build plans as of today subject to change.
What stays the same:
Frame & paint - will be taken apart over the winter & thoroughly cleaned & polished
New stem & handlebars - I like them, think they look cool, & they are very comfortable so they will not be going back vintage
Brakes & levers - It has Universal Super 68 brakes, excellent stopping power for safety so I am not changing them. Levers are Mountain Bike style and comfortable to use so far now they are staying unless I find something vintage I just love.
Rear Derailleur - Has a fifties Campagnolo Sport which it will retain. It just needs a good cleaning & servicing.
Here's what get's replaced or added with brand new items & where I am not worried about vintage. These items are about safety, comfort, and yes, style:
Saddle - Will be changed to a new Brooks B17 & I already bought a really special one
Grips - Will be changed to new Brooks plump leather grips to match the saddle
Saddlebag - Did not have one but either a Brooks or Gyes to match the saddle
Lights - Will be getting CatEye LEDs for safety, I WANT to be seen.
Computer - This one will get a CatEye Commuter computer to log my miles
Tires & Tubes - Schwalbe Delta Cruiser "cream" 700x35c tires & Schwalbe tubes (ordered & on their way)
Rims - 700c TBD, debating on this item & seriously considering wood in the form of Ghisallo Sport carbon fiber lined. This decision will come down the road, for now it will retain the aluminum rims that came on it.
Here's what will be replaced with 1950's/early 1960's vintage Campagnolo components:
Pedals - These have been purchased off ebay & I'll show what I got in another post
Hubs - Want to find some large flange hubs from the fifties
Headset - One on it has issues
BB crank & chainring
Shifter
What will not be retained on the bike:
Ardex Solid chainguard - I love this item but it was not original to this bike but I am keeping it for a custom build down the road.
Here's Pics of the bike as received: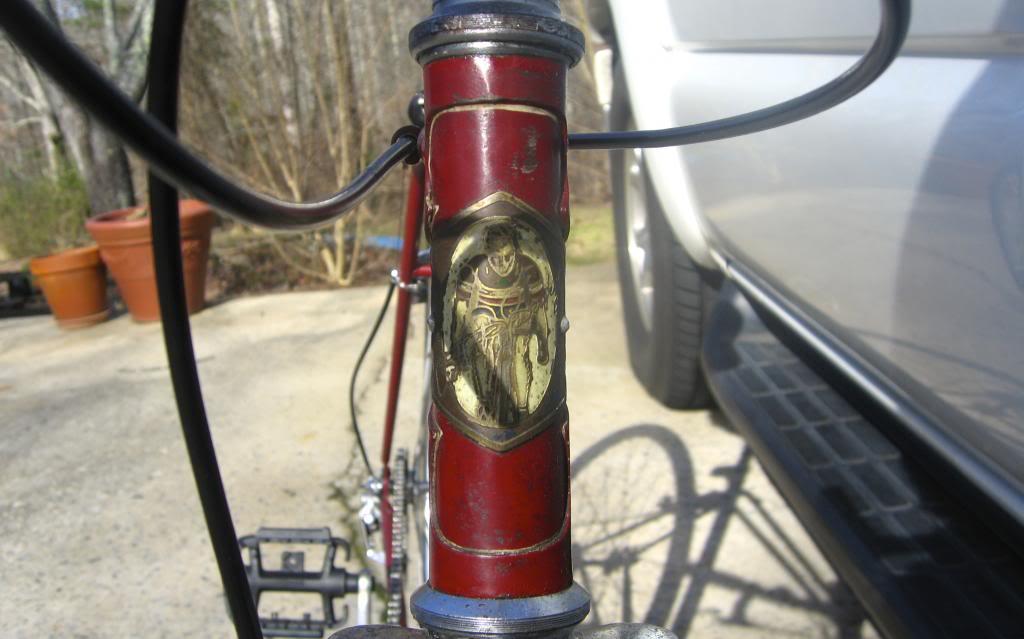 Here's the Ardex chain guard Jackomeano had on the bike that will re-purposed to a custom build. It is really cool
but just does not fit my plans for this bike.
Last edited: