Riding a '38 Autocycle Deluxe
Mixed lot of tires and wheels up!

#1 NICE very nice in fact S-2 Wheel set. I'm tempted to call the wheels /rims perfect and dent free but
noticed a couple of TINY barely noticeable pencil point size pings on one of the rims the other has no dings or dents whatsoever, very hard to find S-2 rims that survived this well for 70 years... again you have look very close to see them.
Nice Arnold Schwinn Drum brake with very good chrome and NON pitted original backing plate with orig shoes
works! New Departure rear brake.. 26 x 2/125 Early COKER TIRE 1980s era? Typhoon reproduction tires
that have deep tread like the original Typhoons, not plastic looking like the 95 anniversary. Some side wall
surface 'checking' but cosmetic...tires are rideable and have deep tread. These Coker tires, for whatever it's
worth for reproduction quality parts, age like original rubber does for a more authentic look (beats paying
300 range for original NOS typhoons too!). Wheels were relaced at some point with more modern profile
spokes and nipples. Very nice pair of wheels for your Phantom, B6, Panther, or what have you.
500.00 plus the shipping (25-35.00)

bobcycles@aol.com
or PM here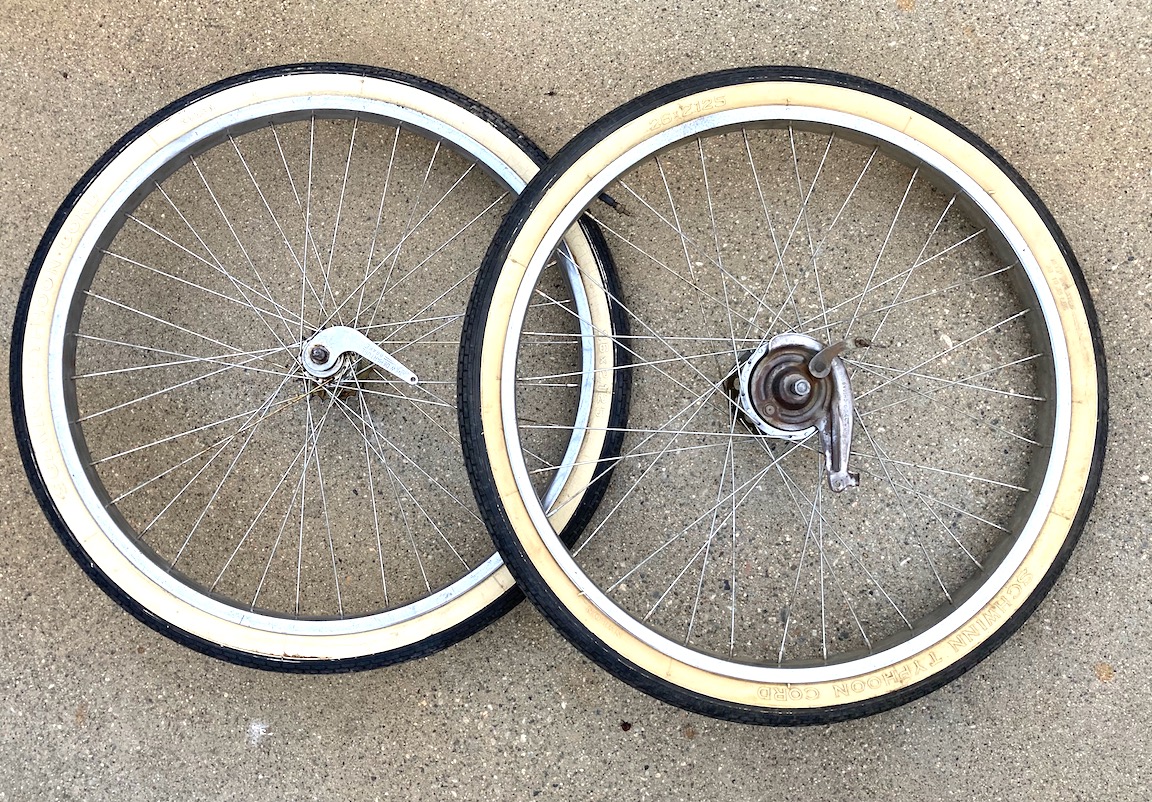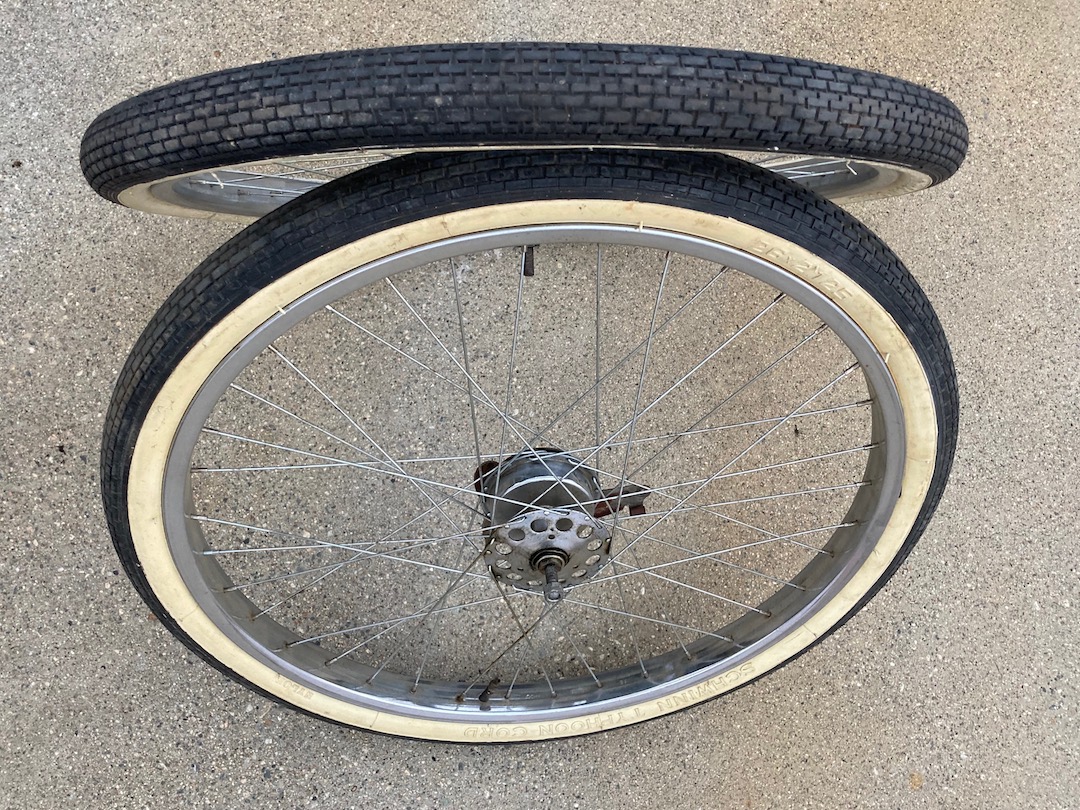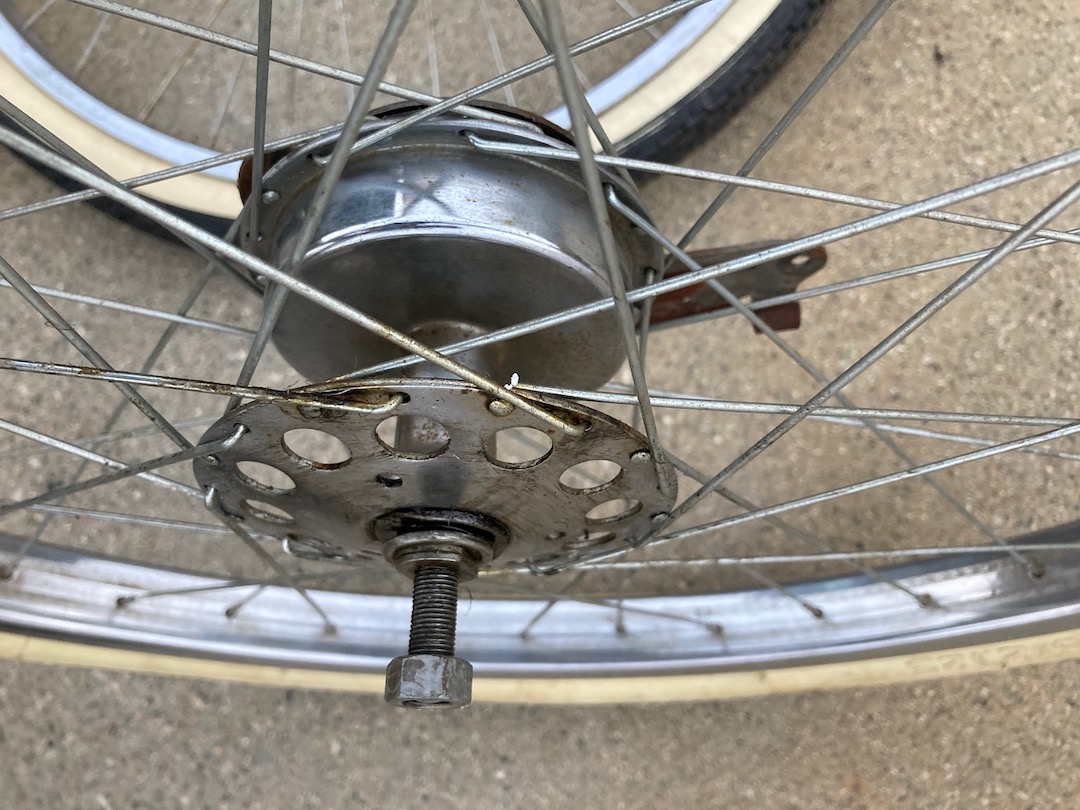 #2 Schwinn S-2 wheel set for the 24" balloon bikes! Rare pair in that the rear wheel is Center stamped standard
gauge spokes and 36 !!! Holes. Very hard to find 50's 24" S-2's with 36 hole profile. Enables you to lace a
drum brake up. Both wheels are amateur repaint but after sanding a small area...looks like there is knurling
on the 36 hole wheel, just very faint. Wheels are decent overall with only a couple of small dings on the front
wheel and No dings on the rear 36 hole S-2.
100.00 for the pair plus shipping.






#3 ---Excellent CARLISLE Indian Head Lightning dart 20" tires pair. 20 x 2/125. Hardest tires size to
find in this condition...these appear to be NOS, one has a minor side wall surface crack that you do not see once
the tires are inflated...both have the mold flashing that new tires have on the top tread...rubber is soft.
VERY hard to find.

150.00 for the pair plus add the shipping! OBO




#4 -----Schwinn Made in USA TYPHOON Black wall Cycle Truck Tires pair! Good used and useable rubber
plenty of tread surface here very minor side wall surface crack on 20" side wall that vanishes upon inflation.
20 x 2125 and 26 x 2/125 ....original USA Rubber by Schwinn
100.00 SHIPPED




#5 Made in USA GOODYEAR ALL WEATHER 24 x 2.125 White Wall tires. Used pair, soft and pliable
rideable but show substantial top tread depth loss, side walls are smooth , no unsightly cracking.. a bit
chalky but ideal for an original unrestored rider ... Found on Schwinn bikes, Donald Duck , Silver King, and you name it
back in the postwar era
80.00 Shipped!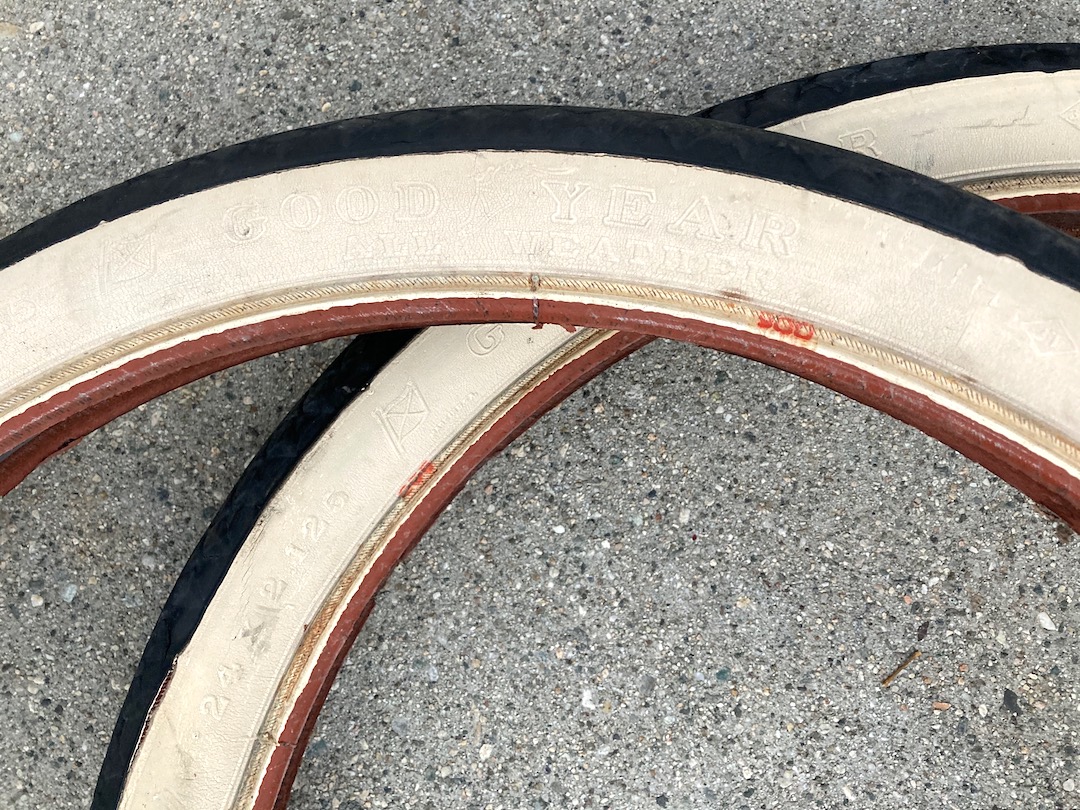 #6 Prewar US ROYAL CHAIN NOS mint!!!! condition Made in USA chain tread 24 x 2/125 tires. Perfect for a
wide variety of bikes including all of those cool Silver King prewar bicycles! These are NEVER mounted MINT NOS.
100.00 shipped




#7------ Prewar Wards Riverside Mate 24x 2/125 SILVERKING bicycle tires! Good used pair, still soft
and genuine rubber thick natural feel. Ideal for a prewar bicycle for display or riding.
50.00 Shipped!


Last edited: