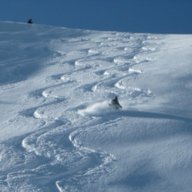 Feb 2, 2018
1,306
62
Utah - United States
A
maintenance-thread
for all things Bicycle related seems to be missing here on The Cabe, so I decided to create one.
I see scattered posts, but think a good maintenance thread is in order. Post your needed Maintenance work, discoveries, disappointments, joys, and in-general findings with pictures please. Has it ever been done before? How long has it been? Are parts damaged and/or available? How did you do it? Why did you do it? How long did it take you? Tips and tricks? What have you?
I pulled apart the
Elgin Tanker
to clean and inspect the crankcase. It had about 500 miles on it, and I was interested in how the bearings and cones were holding up to my pounding them into submission. As you can see, they looked polished with zero wear. Schwinn crank, cones, and bearings from when they used good metal. The sprocket is an -Emblem rigged to work with the 34 Schwinn crank. I also cleaned and brass-brushed the skip tooth chain in mineral spirits. It has 800 miles from new on it and just slightly stretched over 12". I also measured and re-aligned the rear stays as they were not centered on the BB shell and made sure the dropout axle slots were square and even on both sides. I was able to also clean the front hub and rear hub since they were off the bike. Good to go and very pleased with the condition of the BB setup.
Last edited: