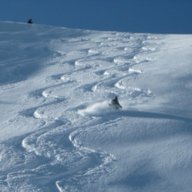 Feb 2, 2018
1,616
63
Utah - United States
Collectors of vintage MTB stuff should be surprised to see this never-seen fork...he made it for me specifically as I remember now that I am so damned old!
McMahon Shaka Zulu
air front fork. Not exactly sure, but with this fork I won the Norba Nationals in my class in 2000. Pic below is from 1997 on an earlier version in another victory.. 1-1/8" straight alu steer tube. Little-known boutique mtb component maker. At the end of the day I would like to find a home for this fork where it can be seen instead of squirreled away in my basement..!
You can see very small cracks that had begun to appear in the CNC'd aluminum crown above..
Last edited: