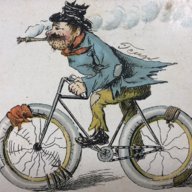 Apr 26, 2015
3,798
38
Roseville MI
I have a set of wheels with tires that would be great for getting your old 28" bike back on the road.
Modern aluminum V rims with Bontrager 700x35C (35-622) tires. Presta valves.
Unknown aluminum front hub
Histop coaster brake rear hub with skiptooth cog
Both wheels spin straight, and tires are like new.
$350 $325 $300 shipped / lower 48
PLEASE DO NOT REPLY TO THIS POST, SEND ME A PRIVATE MESSAGE IF INTERESTED IN PURCHASING. THANKS!
Last edited: