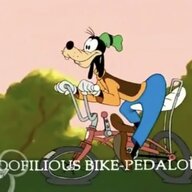 I'm the Wiz, and nobody beats me!
Aug 13, 2008
10,938
Planet Vulcan
Well, for those who aren't aware, the NASCAR Hall of Fame has now inducted Darrel Waltrip who, in the early 1990s, started his own race team. He was sponsored by none other than Western Auto. Some specal edition Darrel Waltrip bikes were produced by Huffy for this promotion, one of which was a re-badged Huffy Sonic 6. Here is one of the promotional bikes, scanned from a very rare 1994 dealer catalog. Again, congrats to Darrel! I'll scan the other bike in a moment. This is my first scan of of my many many ads, not bad! Even if I do say so myself.