Riding a '38 Autocycle Deluxe
Amazing rarely found original paint Montgomery Ward Hawthorne Twin Bar (HTB) Bicycle. It's a Snyder built model with a H letter prefix serial number, I believe this bike is a 1938 or 1939 model.
With the exception of the rare Delta 'Zep' light and the shim bars which I added it is an as found nearly complete and as originally equipped bicycle. The bike has had a recent full mechanical service and the frame and fork have been fully checked for condition issues (none), it also passed alignment tests!
Overall the bike presents very well, in a awesome dark patina blue like grape cola. The white accents are faint but more visible around the head tube and main tube darts. There are also remains of the white long darts on the fenders and what's left of the white pins on the guard.
The chrome on the bike is certainly challenged but I left the crusty patina in favor of keeping it true. It has a lean & mean look!
Notable features:
Unusual space frame design with twin top tubes and down tubes.
Patina chrome Lobdell drop centers w/ND D & W hubs.
Bear claw chain ring
Aluminum truss rods
Delta 'Zep' light excellent non rusted guts, shell nicely color matched, great og bezel, new lens & bulb installed.
Troxel button side long spring is rough but intact & og.
Red glass jewel rack reflector on original 9 hole book strap rack.
Display only Wards Riverside Mate blackwalls.
Slight rip to lower ducktail of front fender, typical issue on these, I left it alone. Otherwise the balance of the sheet metal is very good & straight as well as having nice flat fender braces.
In any case please enjoy the pictures!
This lovely beast is looking for a good home!
SOLD thank you CABE!
Nate VT
401-548-9082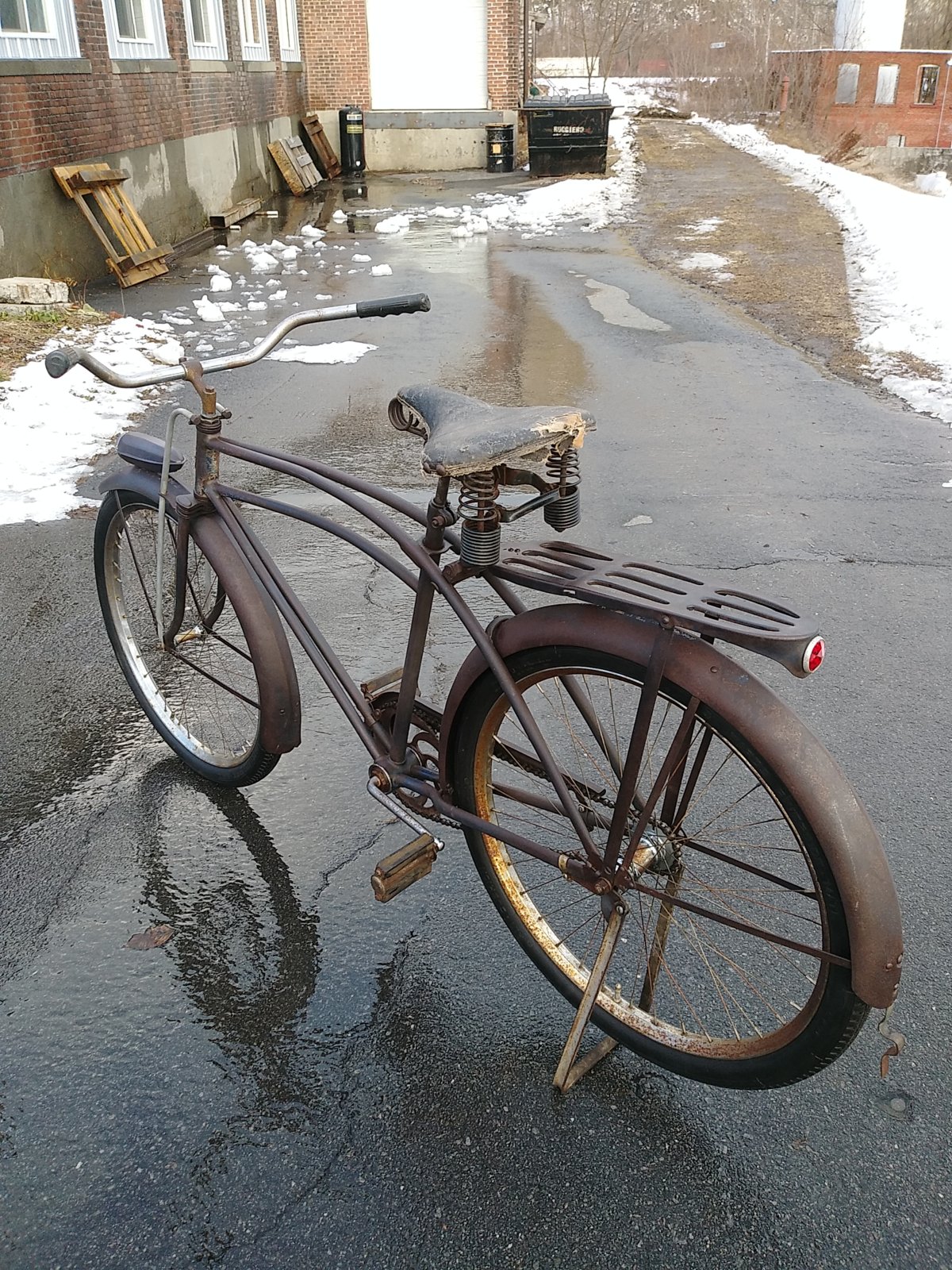 Last edited: