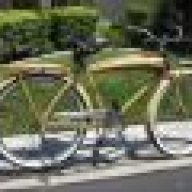 Wore out three sets of tires already!
Oct 23, 2011
856
Las Vegas
I have no pics. But while on a recent trip walking around town, I spotted a really cool lightweight or possibly middleweight bike with dimpled stainless fenders. It might have been newer, but looked vintage.

Not a Schwinn, I don't know what it was. I went back later to investigate and it was gone. I'm not sure if it was a coaster, but I believe it had hand brakes.

Any ideas? I really liked the looks of this bike.