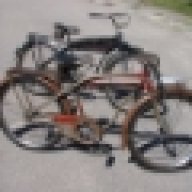 Wore out three sets of tires already!
Nov 22, 2011
923
Hingham, United States
This is a new departure 3 Speed Set up . The price is $200 Shipped in the USA . From what I see I believe this will go on a model D Hub ? I'm not certain if this is complete? I believe all of the important pieces are here . There is a standard chain ring and a Skip tooth chain ring . What is here appears to be in nice very lightly used condition overall. The shift handle has some chrome wear / loss.