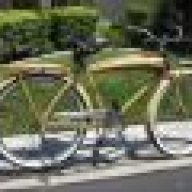 Wore out three sets of tires already!
Oct 23, 2011
856
Las Vegas
Guys,

I have a '41 ND Model D that I refurbed and have done a few test rides on.

Bottom line, when I brake, I hear a hissing sound, then sometimes the brakes stay engaged at about 50% power.

Any ideas? Did we not lube it up right?