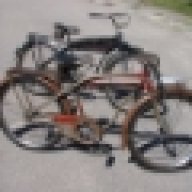 Wore out three sets of tires already!
Nov 22, 2011
920
Hingham, United States
The price is $70.00 Plus shipping in the USA & PR. Location Hingham Mass.This is a pre war bicycle Moto bike era rack .. The rack was painted years ago. The rack comes with the mounting bracket. I had the Rack on a 26" Colson but I believe I've seen this style rack on Westfield bikes also ?? This was on a 26" Wheel Colson Flyer Camel back bicycle.There are several angle adjustment mounting holes. That is why I believe it might also fit a 28" Frame inch frame ??( I'm Honestly not sure though ???) I think this is a after market rack maybe Wald ? . This will fit some other bikes.. Im guessing Elgin Colson Huffman Western Flyer & others but Im not sure what models ??? ​