Riding a '38 Autocycle Deluxe
Nice variety of vintage USA Tires and NOS Balloon rims as listed below...shipping extra on all

Bobcycles@aol.com
or PM Here

1---SUPER nice Gillette Bear prewar tires ... nice enough for a restored Double Diamond Motorbike or your
Aerocycle, yep, you could ride on these. Non Nylon Rare as heck prewar Gillettes and very nice survivors
found on a wide variety of Schwinn prewar bicycles as well as other mfgs. 26 x 2/125
150.00 plus the ride


US ROYAL CENTI'S SOLD
2----US ROYAL MASTER CENTIPEDE GRIP straight line tread prewar tires. Used but useable, soft and
pliable even ...ideal for display or riding if you're adventurous like I am on old American rubber. Found
on Prewar Dayton/Huffman, Schwinn and War Time G519 bikes as well 26 x 2/125
75.00 plus the ride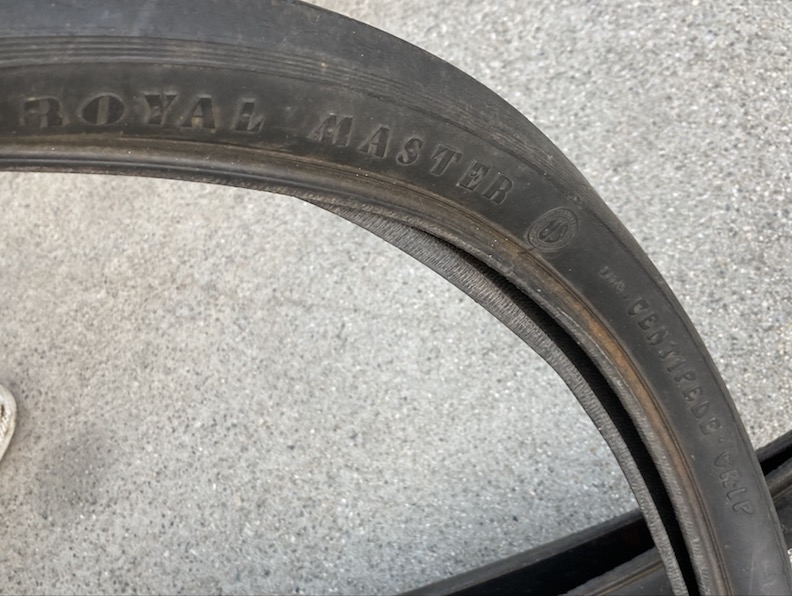 26" CARLISLE KNOBS SOLD
3 --- Carlisle Black Wall USA Knobby tires! NOS Tires...I don't believe these were ever mounted... excellent
shape, needs some cleaning. 26 x 2/125
75.00 plus the ride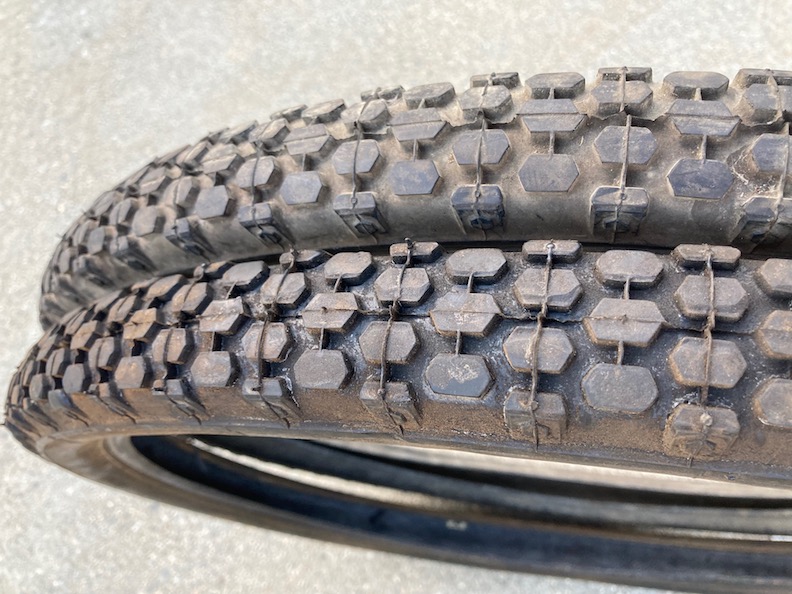 4----Carlisle Black Wall USA Knobby tires! NOS Tires! same story as above, no tread wear.. excellent !
These are the hard to find 24 x 2/125 size
75.00 plus the ride







5----NOS GoodYear Thunderbolt Tires...never mounted matched pair. A few super minor side wall
cracks... overall mint shape! Hard to find 24 x 2/125 balloon size
50.00 plus the ride!






6 ---- NOS 1970s era "FEMCO" import balloon double walled like the the Schwinn S-2 flat profile rims
Still in the factory paper....chrome is about a 9/ 10 due to lengthy garage storage find.. excellent chrome
by all means.. As nicely made as the Schwinn S-2 version killer for early Klunker Mountain bike/ whizzer build.
100.00 pair plus the ride.


Last edited: