Riding a '38 Autocycle Deluxe
yeahyeahyeah Phantoms are boring...largely because of the repop hell saturation. Here is a nice original bike
that's a completely different story.. This particular bike I rescued from a ...well, funky household in Staten
Island, retired bike shop guy had some 'plans' for it, but I would have to say the wrong plans, hence
the rescue. Bike is all original parts down to the WW Typhoon tires and Schwinn tubes! Original
key, nice straight fenders, upgraded the fender braces from brownish patina to nice orig cad ones,
good Expander brake w/ script lever, AS stem...everything you'd expect to see on an early 50's
Schwinn Phantom, and with the unusual rear fender reflector. Leather saddle is sound and rideable
not fragile leather like most. Decals are all complete on this bike. Original Delta taillight has the
bright opaque red lens...but does have a small crack in the plastic, will provide a replacement
lens if you opt to switch out. No repop parts! period.
On a 10 scale I'd say a super strong 7 leaning towards an 8.
2500.00 plus the ride.

many more pix on request...

bobcycles@aol.com
or PM here...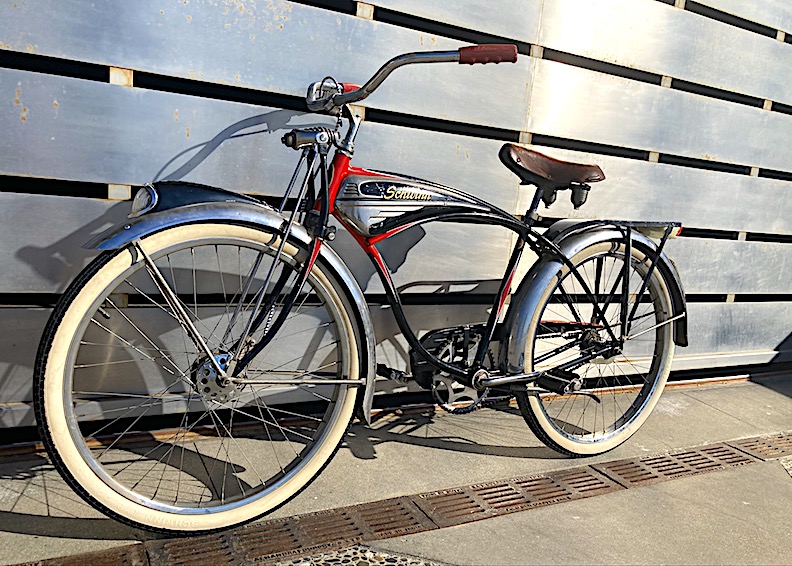 Last edited: