Riding a '38 Autocycle Deluxe
Sep 30, 2006
4,406
13
so cal beaches
Bump reduced price on the NOS seat parts
NOS Lot of 1920s-30s TROXEL prewar long spring seat chassis parts...lots
of good useable stuff including a left and right Rail set for the wire frame
Mens longspring chassis, hard to find correct LONG Carriage bolts for the
spring assemble, complete nose spring assembly, 2 Troxel nose springs
and one Mesinger, THREE center support braces 2 wide
for deluxe saddles like Aerocycle and others...one narrow wire style
All you see in the pix!
A lot of very good useable stuff here.
30.00 plus postage...
bobcycles@aol.com
or PM here
NICE reproduction rear brake cable for the Schwinn expander brakes ...complete
with barrel adjuster and prewar with the ball on the end for the prewar brake plate
cage.
40.00 shipped
THREE Monark fork assemblies for the dual spring and SINGLE spring Monark Silver King
Firestone Super Deluxe etc Springer forks. one has presentable Maroon paint the others for restore.
If Monarks are your thing....good parts to have around for repair and restoration
40.00 all plus postage
bobcycles@aol.com
or pm here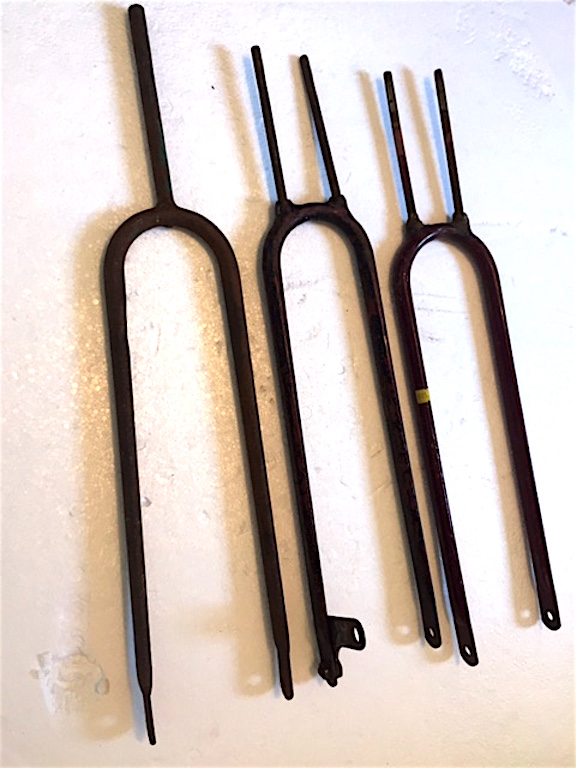 Last edited: