NOS Fenders as found. SHELBY colors blue and red! Rears only 26" balloon
no braces...some shelf wear....2 tone with white pinstripes.
20 each plus postage...or 70.00 shipped on the lot.
email
bobcycles@aol.com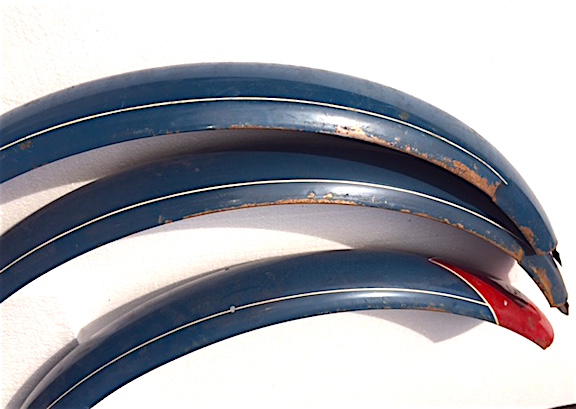 FORKS are sold-------
AS found STRAIGHT 1941 Schwinn "DX" ashtabula bicycle fork for balloon bicycles.
Not Bent! These is a prewar fork but will fit post war Schwinn bicycles as well.
20.00 plus postage.
FORKS are sold-------
HUGEL lot of variety forks including a rare Schwinn PREWAR 24" fork that needs
some minor work, Also a postwar Schwinn DX Hornet etc Ashtabula 26" fork
Schwinn Town and Country fork, Locking NEW WORLD Schwnn lightweight
26" fork (no tumbler but guts are in working order) unusual smaller 20"
Prewar fork .....All you see in the pix for 45.00 plus postage
MISCELLANEOUS vintage guards lot! Some unusual ones here including
Firestone, 24" Schwinn Balloon, and some unusual guards with No i.d.
The lot for 40.00 plus postage!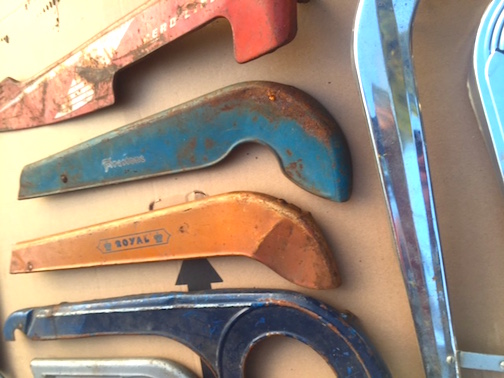 MIXED bag of various 1950s era handlebars....as shown, some Schwinn including
a 24" Phantom steer horn pair with a minor ding on the underside as shown.
Also Wald etc steer horn and light weight Traveler, Superior, Touring style New World bars..
ALL you see in pix 20.00 plus shipping
email
bobcycles@aol.com
or msg here
Last edited: