Finally riding a big boys bike
Of course being able to take our vintage bikes for a ride is why we gather. As was the Foothill Flyer's ride in Monrovia and Duarte, we enjoyed riding through the old neighborhoods; we live in one ourselves.
One of the many highlights of the day was during the ride. While riding alongside Todd
@srfndoc
, Todd and I switched bikes. I knew about his bike; Todd shared pics of his Motorbike with me in the past few months. What a joy to ride Todd's Colson and a motorbike tall frame LWB version at that, too. Very nice rider. Thanks Todd for letting me ride your Colson bike.
Back in September last year during the COBOA ride in Folsom, we saw The Colson, Tony's original Commander. I was riding along side, and even then, Tony @hat said, "You're welcome to ride her." Unfortunately, I didn't get the chance that day. While we stopped at the park looking over his Commander, I cautiously asked Tony, but this time just around the park while we wait. But then we were getting ready to leave. "Next time." I thought. Quinn
@Fonseca927
was going to ride the Commander, but Tony said to Quinn, that Eddie wanted to ride the Colson. Quinn took my Schwinn DcBR and I got on "The" Colson. What an absolute treat for me riding the bike all the way back. Thank you Tony. That was definitely a highlight for me.
Had lunch at the Pizza Press with the rest of the gang, eating with Mark and his sweetie. It was good to see the two after Mark had surgery just 4 days before. Good to see Mark on his feet. After leaving lunch, some of us went to check out a couple of Mark's
@mrg
antique booth down the street, because we love old stuff. Mark walked us back to our SUW and hung out while I was breaking down and getting the bikes ready for our trip back home.
Overall, my wife and I had an incredibly fun day. The SoCal hospitality is awesome, like Mike, Tony, Mark, and Todd, offering to host my wife and me when we are in their area. Marty @cycling day, Tony, & Kevin, thanks for hosting the Old town Orange ride; we will definitely be back and this time spend more than just one day. What an awesome weekend of vintage bike fun.
What...is that Todd with a big smile riding a Schwinn bike?
Todd still riding our '36 Schwinn DcBR
That's Quinn now riding our '36 Schwinn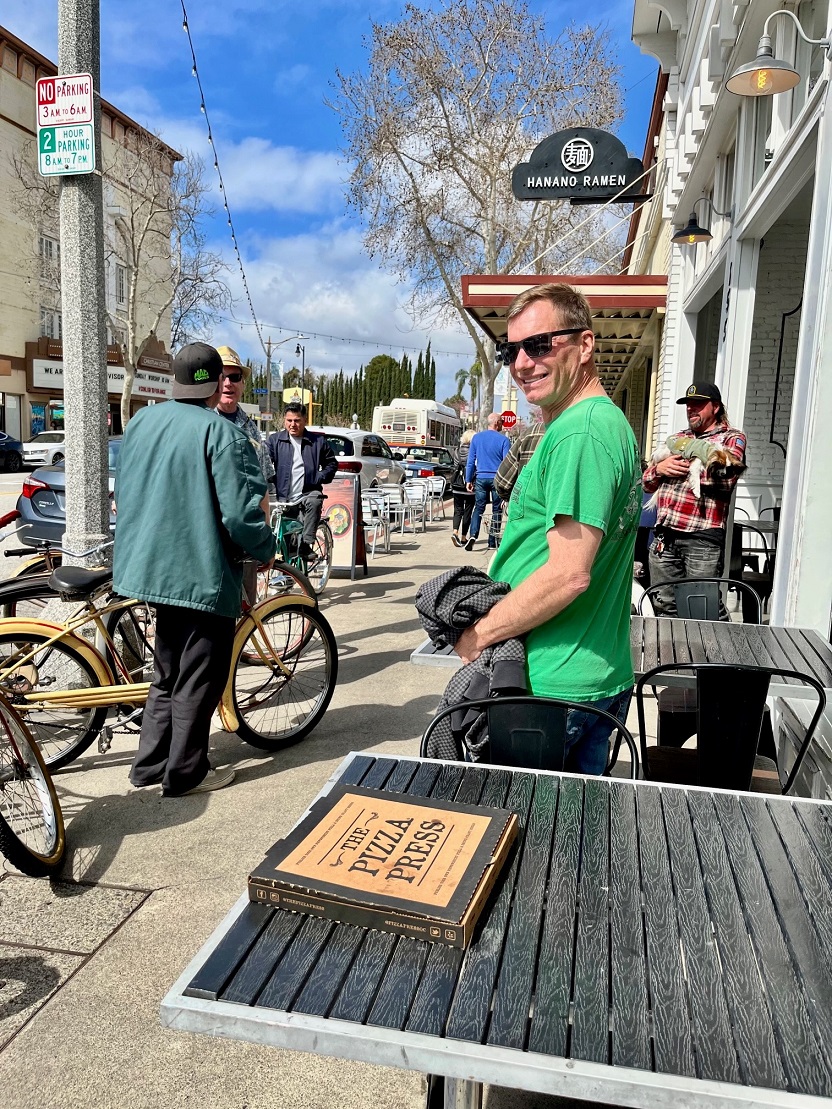 Good to see Mark up and around
Last edited: