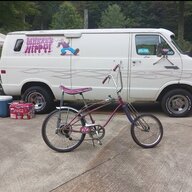 Wore out three sets of tires already!
Nov 10, 2009
642
Pittsburgh PA
I saw this a week ago on FB marketplace , and thought it was cool. But , while looking again yesterday, I noticed the strap around the headtube , and figured it was worth it just for the light and medallion , so I sent message of interest.
Upon pick , I met the sweetest woman who told stories of getting her most prized possession for her tenth birthday. She was sad to see it go , but was moving and having had two knee replacements , realized the dream of riding it again had passed.
She was in process of going through things to pack , and promised if she had any old photos, she would share them with me.
The color is so unusual, and vibrant , I decided this will be a keeper.