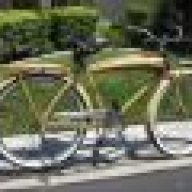 Wore out three sets of tires already!
Oct 23, 2011
856
Las Vegas
Hey guys, I am looking at a Columbia Paratrooper Compax folding bike for daily use in my travels. Something for the trunk or easy transport, but that could be unfolded and ridden short distances.

Are these bikes okay for your average terrain and "daily" use? I'm 175 lbs and ride my bikes pretty easily (no off-roading or abuse). But I'd like this for something to unfold and go, but worry as there is no top tube.

Thoughts? Safety issues for riding around town?