Riding a '38 Autocycle Deluxe
All shuffled to Ebay...for bids n' BINs
but if no bids at the time of interest reach out, might be able
to cancel the listing on ebay and sell here
Another batch of 1970 and 72 Krate parts and related Stingray items.

bobcycles@aol.com
or PM here

----8. Schwinn superior front wheel. Has very decent chrome, no S7 stamp on this one, but
it is an S7 Schwinn tubular wheel. Fits Krate front wheel, midget and runabout Stingrays.
Repop tire on board looks ok.
125.00 plus the ride..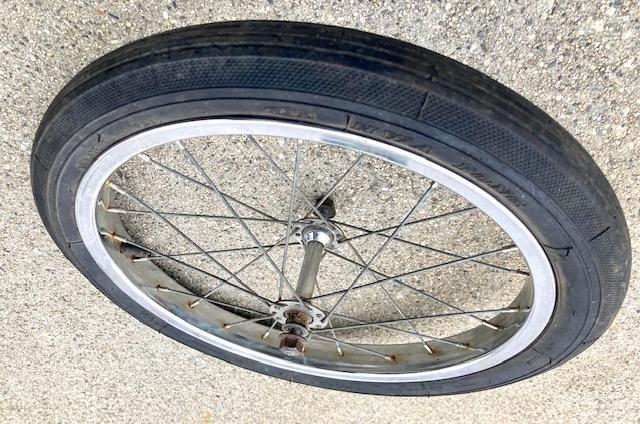 ----9. Nice original Schwinn Stingray 1968-1973 Spring fork as shown. All there including
head set, not all bent or dinged up, minor patina but looks pretty good, even the spring etc.
Has the proper S bolts.
250.00 plus the ride.
--10. 1970 Dated Schwinn Lemon Peeler Coaster Krate frame. Paint is pretty worn in some placed..
has the crank and sprocket, badge, post, clamp and chain. The Lower kickstand mounted fender
bracket is broken in 1/2 ...the broken piece provided for re braising etc. Good potential for a
Cool Stingray or Krate build. Original Lemon Paint
125.00 plus the ride.
---11. Original Paint Coaster Krate Lemon Peeler chainguard. Decent chrome, paint is not that bad
and graphics still good!~
150.00 SHIPPED
---12. Looks to be a restored or most likely 95' Schwinn Anniversary Lemon Peeler seat. Early color combo
for 68 and 69. Overall good condition... one small nick, covered by the seat shocks once mounted. Nice
clean pan, Permaco so made in the USA .. getting scarce. .. and a genuine Schwinn part.
200.00 SHIPPED.
----13. Decent original Seat shock for the Krate bikes 1968-73. Chrome is ok, not mint but pretty decent.
See the pix!
150.00 OBO plus the ride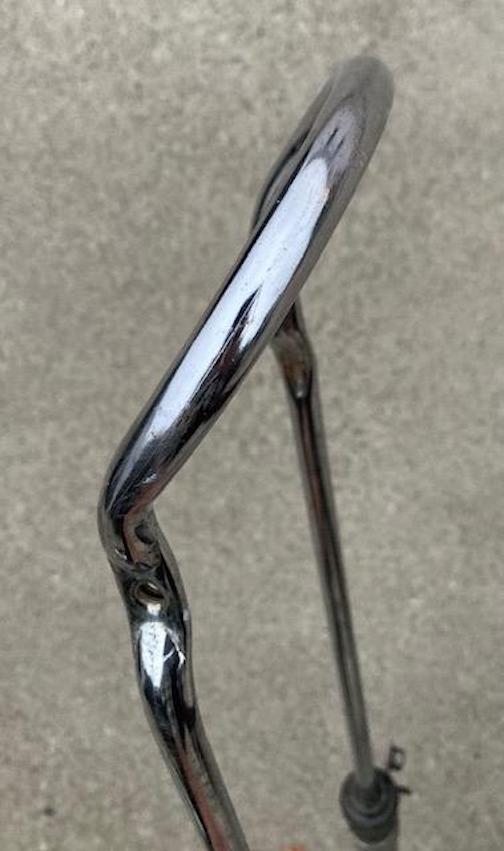 Last edited: