Wore out three sets of tires already!
In order to help me scratch that creative itch that my current
Build Off entry
can't quite reach, I want to throw together two custom Schwinns out of the parts I currently have in stock.
This is "Parts Bin Schwinn" No. 2: a 1958 Schwinn cantilever frame that, along with some other parts and books, was gifted to me by a fellow CABER,
@belkerx3
, on Christmas day last year. I wasn't sure what to do with it, as I'm honestly not the biggest fan of Schwinn's cantilever frames (it's a minor aesthetic nitpick of mine,) but I felt I could build it into
something.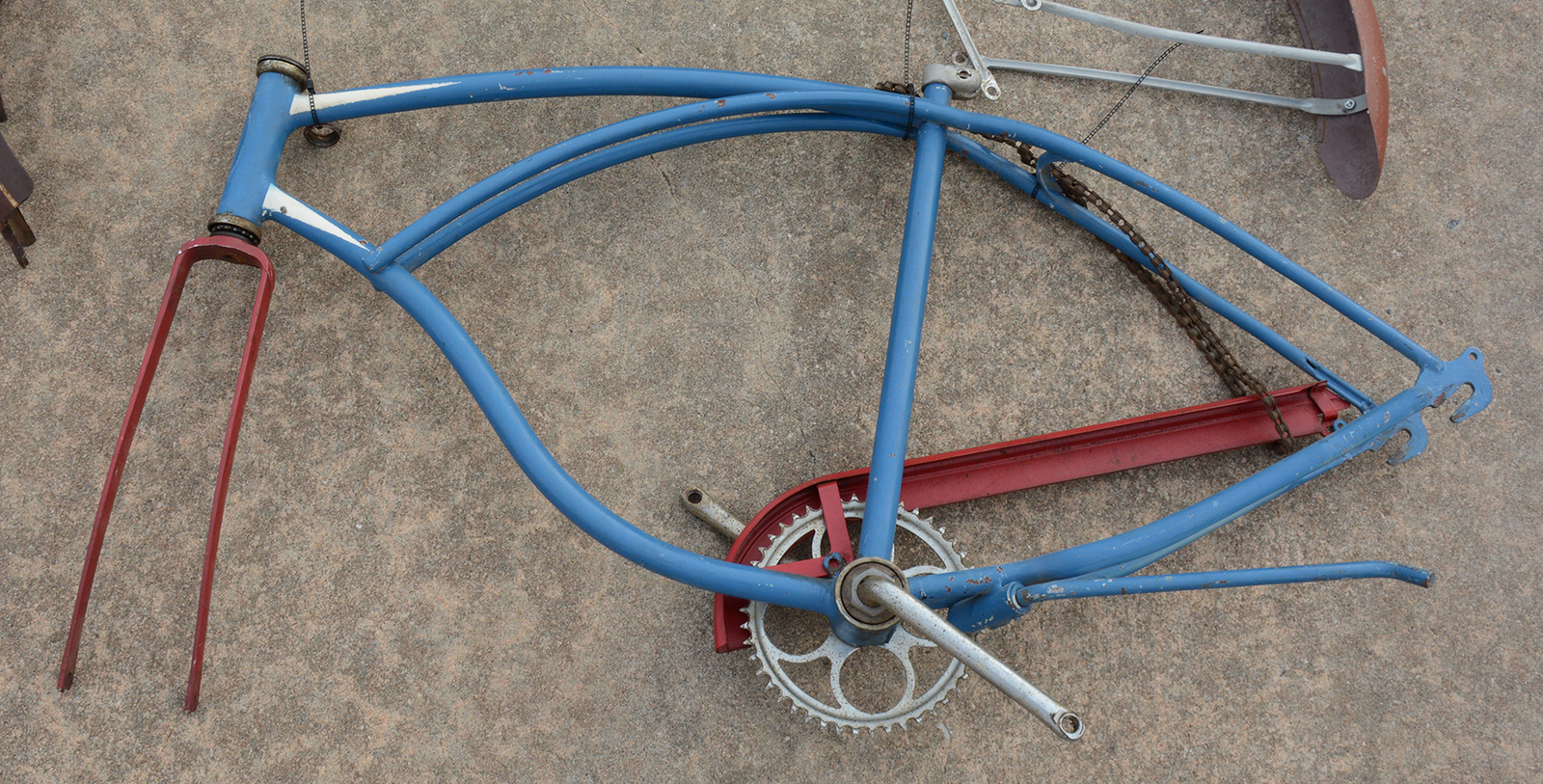 For a while, I couldn't decide what to do with this bike. At first I though about building this bike with some "expendable" parts and selling it as a custom bike, just to see if I'd have any luck with that. I didn't get past the initial mockup phase, as none of the parts I was willing to let go of looked good on this frame. Later, I toyed with the idea of cutting and welding this frame into a full custom bike of my own design, but I couldn't decide how I'd go about that. Finally, after
pausing one custom bike build due to parts budget constraints
, and
my other build just not allowing much room for creativity
, I decided to just throw the parts bin at this frame and see what stuck.
But above all else, the real reason I wanted to build this bike was so I could learn how to spray paint a bike. I've done spray clear coats before, but not an actual paintjob. I want to practice masking off designs with tape and paper or whatever to achieve some fun effects, and this bike is the perfect guilt-free canvas for me to experiment with. The one real caveat I have for this build is that I can only use parts that I already have in stock. I can't afford to buy more parts right now other than maybe the odd tube and tire, and I really need to use up what I've got anyway. With that said, I can allow myself to buy a few cans of spray paint for this project, provided I can avoid spending too much.
So on June 9th, I started mocking up parts, hoping to figure out how I wanted to build this bike. And that's when I ran into an issue: I don't know if this was originally a balloon tire or middleweight Schwinn. None of the middleweight or balloon tire Schwinn fenders I have fit the frame, as the seat/chain stay bolt holes don't line up with the rear fenders I tried on! I tried measuring the seat stay fender mount on this frame, compared to both a balloon tire Schwinn and a middleweight Schwinn I own, and the width of this frame is... somewhere in the middle?! What the heck?! do Schwinn cantilever frames use different fenders than other Schwinns or something?! I don't get it...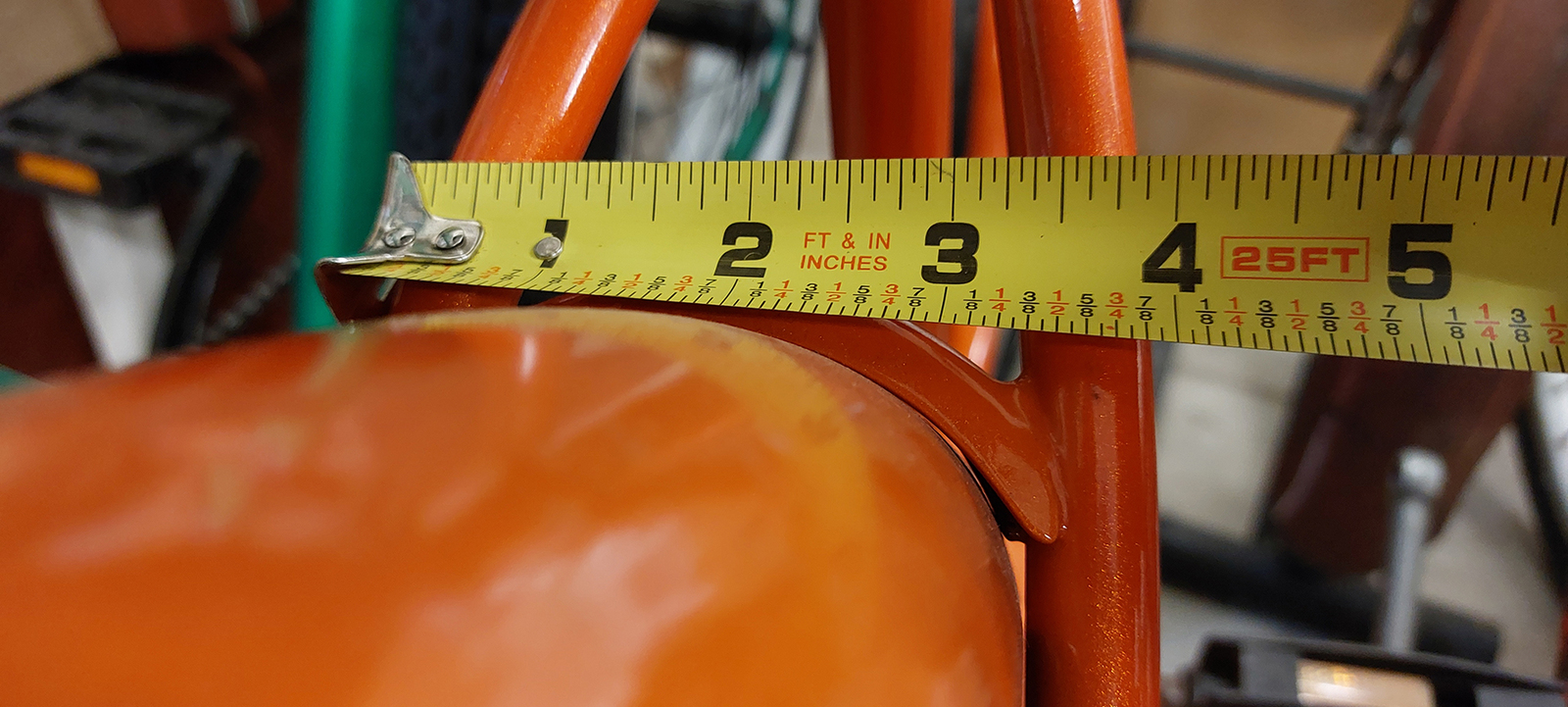 Eventually, I found a fender that could work on this frame with some slight adjustments, so once that was sorted out, I started mocking up the rest of the bike on June 9th. At first I tried building the Schwinn with a standard wheelbase, using some big and little tires and an aftermarket chrome springer fork. I liked the tires, but the chrome springer wasn't going to work, as a standard Schwinn fork race wouldn't fit on the steerer tube, and the race that came with the fork didn't fit the Schwinn bearings. I also didn't like the straighter handlebars, since the rest of the bike was so curvy; so I threw on some flipped curved bars I pulled off another bike.
Next, I tried on an earlier original Schwinn springer fork, since it was already designed for this frame and its specific headset parts. It looked better, but I still wasn't satisfied with the overall look.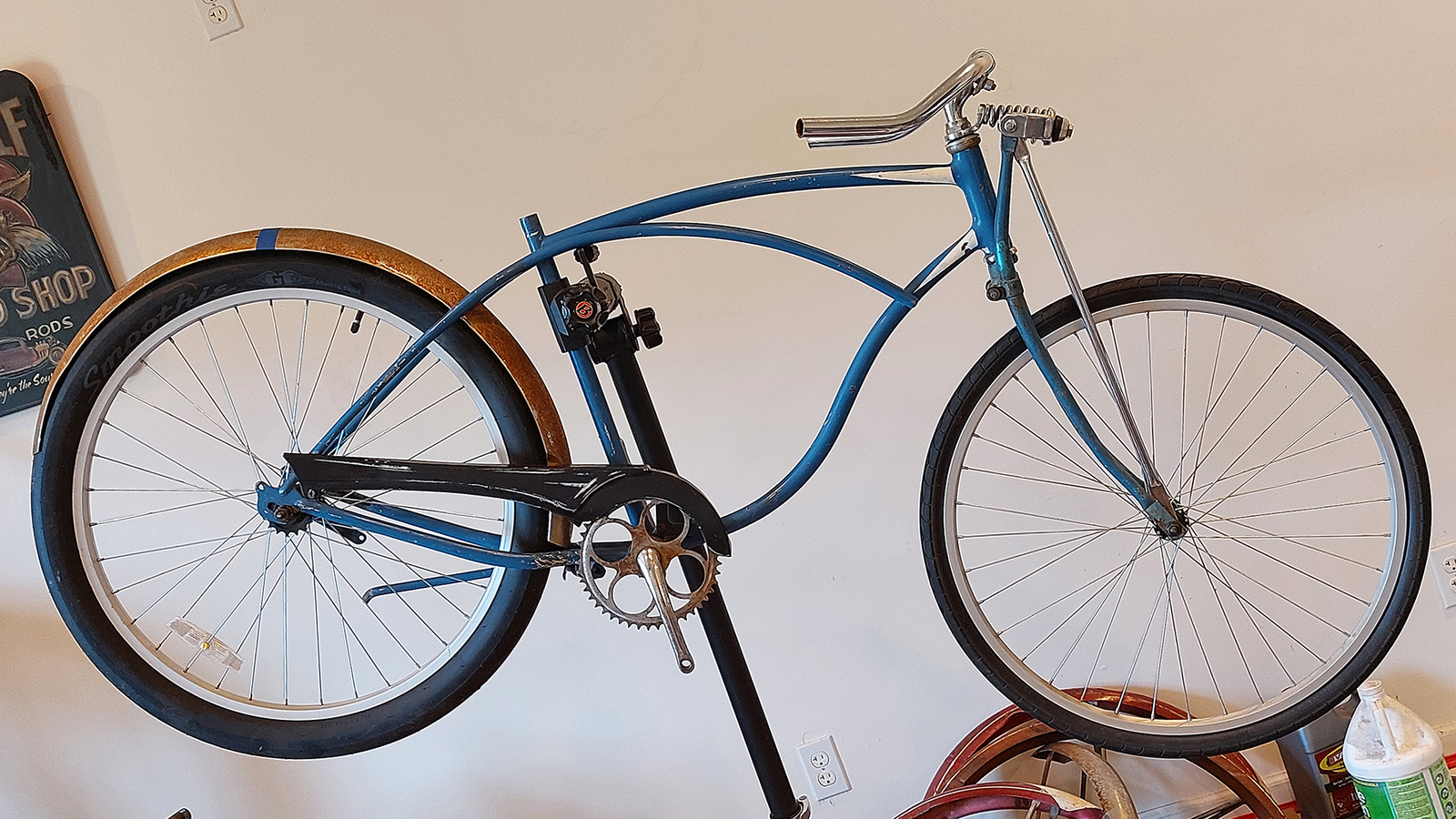 I tired flipping the steerer tube around and mounting the fork again.
BINGO!
Suddenly, this bike had
attitude!
I also tried on a Monark chain guard I recently picked up from a previous swap meet, and to my surprise, it actually fits the frame quite well! I could probably even just bolt it on without any modifications. The only part I was stuck on by that point was whether I wanted a bobbed fender, no fender, or a rear rack in place of a fender. Overall though, I felt pretty thrilled that I figured out a way to make this bike look good in my eyes. That stance was just what I was looking for!