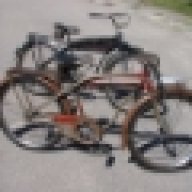 Wore out three sets of tires already!
Nov 22, 2011
921
Hingham, United States
The price is $175 shipped in the USA . This is a Peerless DP Harris Rollfast frame fork & badge. What you see is what you get.
This is the frame fork only & badge ! The frame and fork have a nice patina & look good for thier age. There is some rust & paint chips. The badge has a lot or wear/ patina. The badge is not on the frame in the photos but comes with the frame & fork.