Riding my '38 Deluxe Bluebird
Jul 21, 2011
5,547
2,559
Mpls, MN
Selling for a friend, from '53-56 Panther & Phantom, some parts repop some original.
*Have more parts not shown- will be listing them in this thread and will post pics later, see bottom of listing for description.
1. Ducktail Phantom fenders with battery tray and switch. Look like old nice repops, heavy guage, have some age on them. Orig braces. Dent under fork area on front otherwise very nice.
SOLD
2. Train light cover, metal. Both screws, nice lens.
SOLD
3. Reflector, repop, $14 shipped.
4. Early Locking springer with key. Looks restored. Nice. Steertube 7". Includes bearings/nuts.
SOLD
5. Big Phantom guard, restored. Nice.
Sold
6. Double knurled S-2 rims, no stampings. Orig Schwinn front hub is nice, Bendix rear also nice. Includes pretty nice Lightening Dart white walls, lug nuts/washers.
SOLD
7. Red grips, look original, but could be old repops. Nice, some dark staining on one side of one. Red hard to find!
SOLD
8. Deluxe 2 brace 6 hole rack with reflector. May be orig paint, but may have some touch-ups. Nice.
SOLD
9. Wald stem with a repop AS bolt. Looks decent. $42 shipped.
10. Bars, WALD Phantom style, 27" wide. Nice.
SOLD
11. Black badge. pretty decent.
SOLD
12. 54 link including master, nice condition. $20 shipped.
13. AS D bolt seat clamp. may be repop or rechromed. Nice. $25 shipped.
14. (not shown) 26 x 2.125 black wall Schwinn Typhoon Cord, brick tread, pretty nice.
SOLD
Let me know if you want more pics. Offers will be passed along.
PP no fees please as it's for someone else. Message if interested.
Darcie/Nick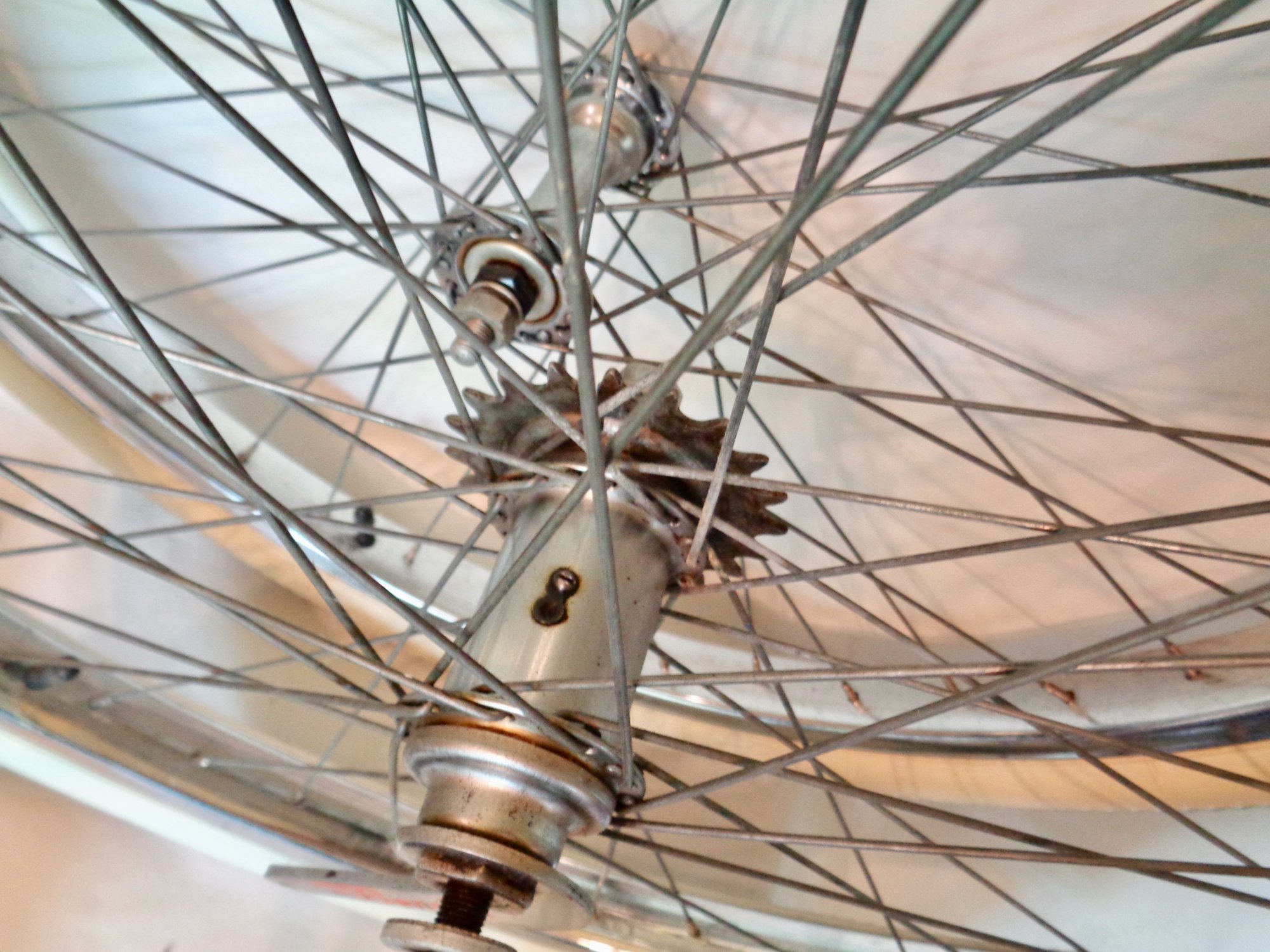 Last edited: