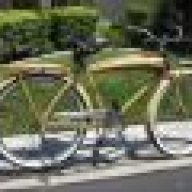 Wore out three sets of tires already!
Oct 23, 2011
856
Las Vegas
Has anyone ever experienced that? My '41 Westfield makes a pop pop pop sound when pedaling hard. It's quiet when pedaling lightly.

Yesterday I replaced the pedals from another bike, thinking the pedal bearings were acting up. That wasn't it, she still did it.

So I removed the chain (cleaned and re-lubed it) and disassembled the bottom bracket. Everything looked great in there. Re-assembled it all and adjusted the pre-load a tad lighter/looser, as well as the final BB nut. The final nut over the cover plates and it's tightness seemed to have some impact on how smoothly she pedals.

Anyway, my test ride was MUCH smoother after all this. Is this a common issue? Was my pervious pre-load just too tight?

Thank you.