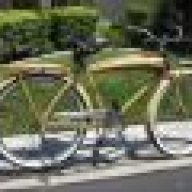 Wore out three sets of tires already!
Oct 23, 2011
856
Las Vegas
Okay, I think I found the issue. Thanks guys!
See the pics below. The old and tired chain has indeed stretched and I've got some shark finning rear sprocket issues too.
The current chain is 56" w/o master link, (1/2 pitch) and has 54 links w/o the master link. The rear sprocket is also a 1/2 pitch, despite some shark finning.
I'm currently prepping the spare Westfield chain. I counted 53 links (including the master link) and it is 53 3/4" long. There is one broken roller but otherwise the chain is in great shape. I'm thinking it may be too short (without bringing the rear axle way forward.)
Keep ya posted, thanks guys!
Last edited: