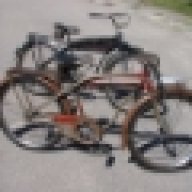 Wore out three sets of tires already!
Nov 22, 2011
923
Hingham, United States
These are old frames the prices range from $50 to $75 plus shipping . In the US
They are as follows .
1 Shelby frame lots of surface rust and one repaired weld . $50
2 Orange Montgomery Ward Rollfast. $75 Has crank and Worn Badge
3 Red spray painted CWC bike crank rub wear on the down tube . $50 One drop out is a bit bent but useable or fixable .
4 CWC Redish original paint (Does not come with crank arms ) they are no good . $70
5 Teal ? Columbia no badge has crank $75
6 Metallic Columbia has kick stand , badge . And crank . $75
I can gladly provide more photos if requested . These are mostly 26" frames there is one 28 " Moto bike frame . Most of these frames where found in a old garage where they sat for many years.