Riding a '38 Autocycle Deluxe
Regarding below list...

Prewar Schwinn 9 hole carrier is available.and the #2 (nicer) light cover....
Prewar Schwinn 9 hole rear carrier! Looks to have been powder coated gloss black...
overall pretty straight, considering how bent up these usually are. Some surface
texturing under the paint, but not bad pitting ... Nice and fairly straight and solid,
...good for an orig black bike or repaint for your project!
100.00 shipped!
bobcycles@aol.com
or PM here

SOLD----
------------------POST war 9 hole Schwinn rear carrier.. Looks to be powder coated black gloss...
over all not bad, looks to have been welded (small area) near weak spot at legs
and repaired, not bad overall, no perfectly straight but easy enough to make nice!
Hornet, Panther, DX, Schwinn etc.

35.00 plus add the postage

bobcycles@aol.com
or PM here


Light cover....SOLD!--------------------
Original (not repop) Schwinn fender light covers as shown.... 1st one has a small split, not wide but
looks to be battery damage.. not really a gap showing, more like a small crack
I tried to shoot a pic from the underside. Still better than nothing.. shiny black
paint looks like redone.
40.00 plus add the postage

bobcycles@aol.com
or PM here



Decent original Schwinn Phantom light cover...some minor rash on the plating up
top towards the front.. overall not bad! Paint looks original, but not positive...
good for a rider or decent og Phantom bike!
60.00 plus postage OBO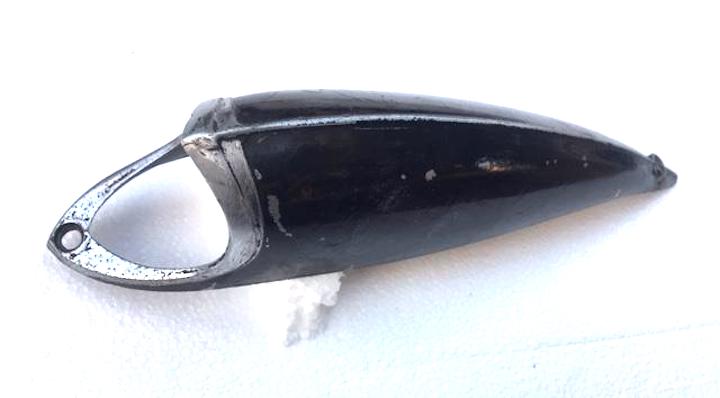 Wheel hoops are sold!
Here is a set of original Non Knurled (1st year 1948) S2 hoops that were chrome plated. As found in a
recent small parts collection I acquired. These are straight ...one has Schwinn S2 script visible, the other
must have been polished out by the chrome shop. One hoop is 'ok' but has some minor chrome imperfections
on a few edges. The other has what I would say is rust under the plating where the hoops were not properly
drained before removing from the plating tanks...so rust is showing in some spots coming up through the
plating. Regardless...they are riders for sure or RE Restorable or paintable ...no dings and straight!
Sold as-is as found... 50.00 for the pair plus add the postage

bobcycles@aol.com
or PM here...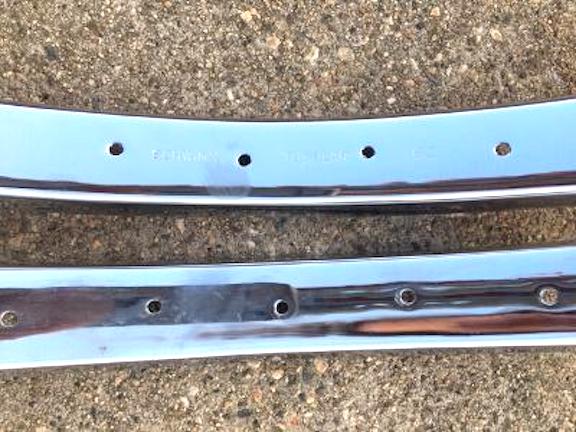 Last edited: