Riding a '38 Autocycle Deluxe
In Memoriam
We all know about Major Taylor - Does anyone know anything about Woody?
This is from The Bicycling World 1903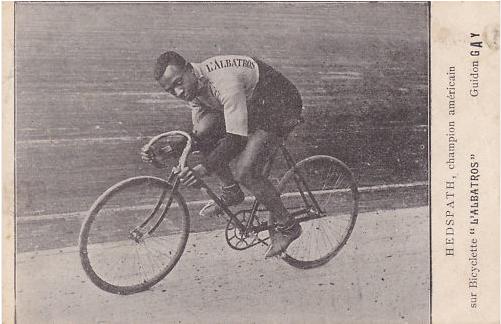 This is a terrific, old postcard with an image of Woody Hedspeth, American bicycle race champion. The card is French and the information printed on the front says, "Hedspath (misspelled) champion americain, sur Bicyclette "L'Albatross," Tires "Le Persan," Tige de selle elastique "Porthos." Translation is, "Hedspeth, American champion, on bicycle 'The Albtross', tires 'The Persian one,' stem of saddle, 'Porthos'." You can read L'Albatros on his jersey. Albatross bicycle was built by the Mead Cycle Company, Chicago, Illinois.
The Dec. 7th New York Times carried an article about Woody Hedspeth participating in a six day bicycle race starting at Madison Square Garden in 1903, as part of a two man "colored" team with Melvin T. Dove, both from the Calumet Team.
is an excerpt from that article: "CYCLISTS IN LONG RACE; Six Days' Contest Starts with Seventeen Two-Men Teams. Cheering Crowds in Madison Square Garden Last Night and This Morning -- Close Struggle Expected... Four minutes after midnight this morning the eleventh annual international championship six-day team bicycle race was begun in the Madison Square Garden, and the, big amphitheatre was Jammed with a record-breaking crowd. Of the eighteen tearing, entered; seventeen started, the men being sent on their way by James J. Corbett, ex-heavy weight champion pugilist... Following are the names of the riders at the beginning of the race: Simar, Bettich, Breton, Vanderstuyft, Nat Butler, Floyd Krebs, Jacobson, John Bedell, Franz Krebs, Root, Galvin, Keegan, Fisher, Hudsbeth, Walthour, KRamer, and Mc. Lean."
Last edited: