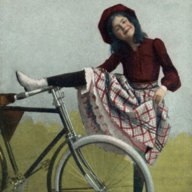 Riding a '38 Autocycle Deluxe
Sep 2, 2010
6,732
1,768
4900 New Kent Rd, Richmond, VA 23225, USA
So the stage was set at a small rural Virginia college town, where a local auction was held yesterday... the kind of sale that featured many things pre-WW2 from numerous barns and outbuildings, the kind of sale most of us would want to be at on a brisk, but sunny Saturday morning.
I found out about the auction only a couple of days in advance and in the listing there was a 1895 Miami Cycle wood rimmed bicycle that was mentioned in bold it was just pulled out of the upper barn floor, yet no pictures.
So I speak to the auctioneer and he reluctantly had an assistant text me some pics I had requested (bars, cranks, headbadge, saddle) the day before the sale and mentioned he would not have the time to upload any photos on Auctionzip.
I forward these shots on to Blue Nelson who was very helpful in value and knowing what to look for.
Perfect!
I had the info and some money and no proxybid or online bidding, no phone bidding, the bike was added late so likely few would see it, definitely off the beaten path away from the heavy hitters here, with only an absentee option based on a loose description without pics for those that could not attend live.
So I made the 2.5 hour roadtrip and patiently waited for the bidding to begin on this bike, eyeing those who went over to look at it.
The auctioneer really tried to drum up interest in the crowd like no other item that day, but at go time, there were no absentee bids in...just me and the mostly antique dealers that were there.
It all happened at a lightnin' pace of $100 dollar increments between my card and only one other fellow until at 1300.00 (plus 5% tax), I lowered my number in disbelief at what had happened.
I approached the winner of the bike afterwards to offer my congratulations and to get an idea of wtf just happened.
He was a watch dealer having a few bikes, none earlier than a 50's track bike, so I was not up against a seasoned bicycle collector, not against a Racycle or TOC collector, just some guy who happened to want the bike more than me, someone who said he always wanted an early bike... although I got no sense he really knew what he just bought and at this price, I was just shocked it wasn't going into the space I had set up in my van.
Anyway, that's the story and I did win a few other things to flip and recover my investment in gas and time, but still shaking my head this morning at this random occurrence...or was it?
Chris
Last edited: