Shipped price is US only but I will ship outside the US for added cost.
Item #1 NOS grips Schwinn 3 1/4 for the 12 inch Schwinn's I have Green, Opac, Black, Blue and Yellow They might need cleaning but are NOS never on a bike $15 shipped each Yellow $10 shipped each pair Have more than one pair of each. The yellow have some fading.
Item #2 NOS Full size 4 3/8 Opac, Silver Mist On hold as last pair and have someone that needs them, Black Chubby's $25 shipped Have more of the Opac and Black chubby's.
Item #3 Green Lever covers NOS $18 shipped have more also.
Item #4 BF Goodrich Grips NOS $30 shipped
Item #5 Streamers $15 shipped each pair, Have more also.
Item #6 Heavy weight fender set Schwinn NOS Hardware included $150 shipped
Item #7 General Brigadier Fastback WW tires No slick, NOS but will need cleaning. Never mounted on a bike still soft. C 3 1 2 Date code. Fits British E. 5 J and American S-6 Rims 20 x 1 1/4 x 1 3/8 Made in the USA Inflate to 60 Pounds $85 Plus ship.
Item #8 16 x 1 3/4 Schwinn Superior Made in the USA Fits Schwinn Tubular Rim Original still soft not cracked Cant read date code. $75 shipped
Item #9 16 X 1 3/4 Fits Schwinn S - 7 Tubular rim $40 shipped
Item #10 Manta ray slicks 24 x 1 3/8 Fits Schwinn S - 5 or S - 6 date code is 1972 Both have lots of cracks but still could be rode on $25 each plus ship Sold
Item # 11 General Brigadier Fastback WW tires no slick Made in the USA Fits 20 x 1 3/8 English E - 5 - J and Schwinn S-6 Rims Will need cleaning $65 plus ship. One set sold Have 1 or 2 more sets left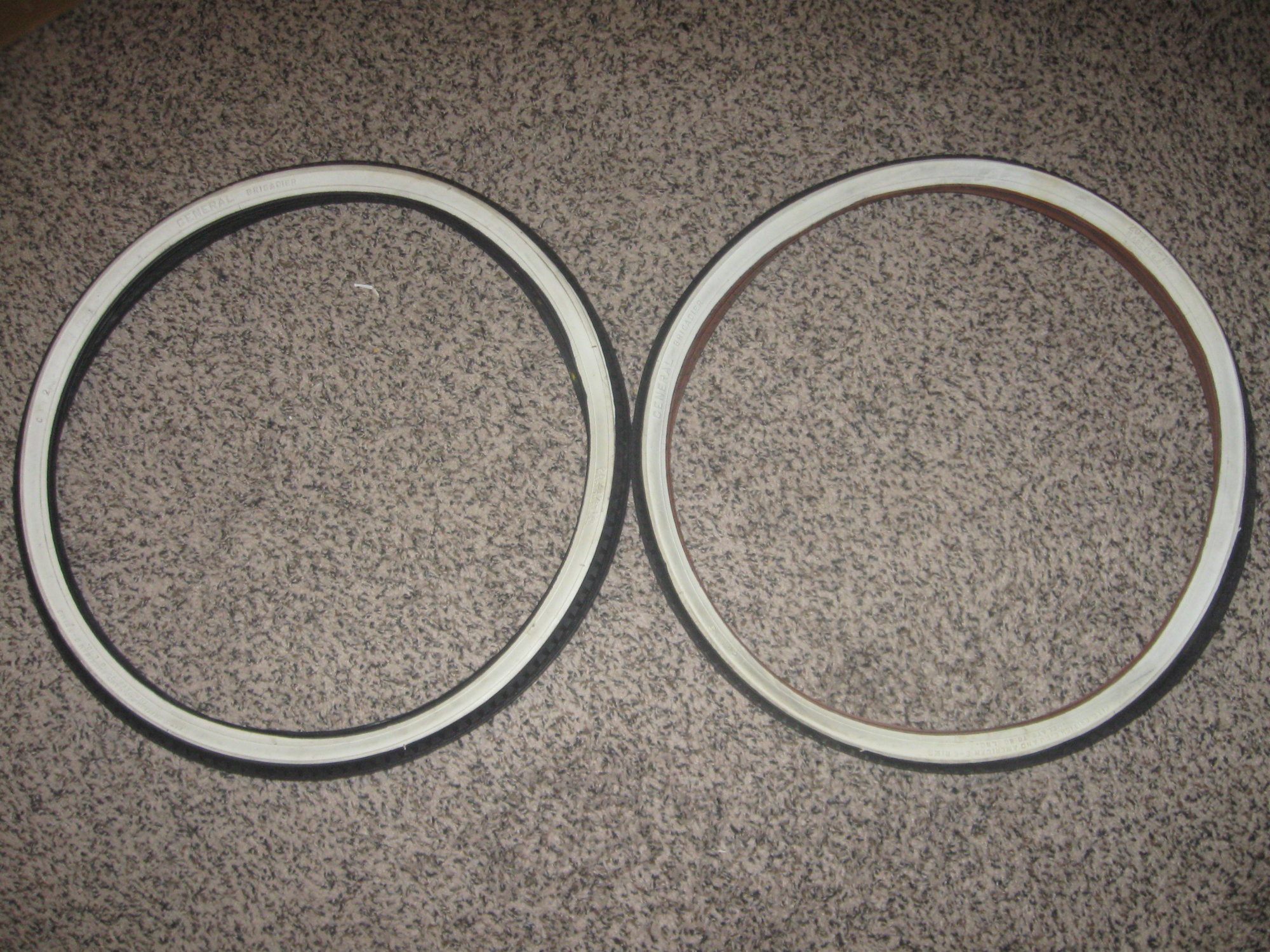 Last edited: