Riding a '38 Autocycle Deluxe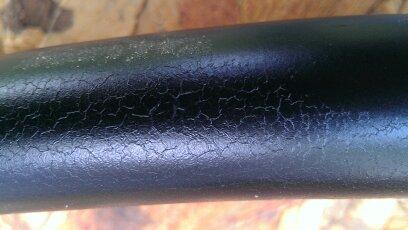 OK, so I'm having some issues with the rattlecanned paint job I'm attempting.
After etch primer was applied and dried and sanded the minimal runs and reprimed (I have wiped with paint thinner and wiped dry to clean before coats), I applied the paint. Immediately it was apparent the primer started cracking / wrinkling effect, as though the paint reacted to the etch primer.
What am I doing wrong?
The pics above show the frame after primed, painted (one coat), and a quick application of clear. I thought maybe if I appled the clear I would be able to sand / buff and a miracle would take place. I know better. I shouldn't have applied the clear yet.
The wrinkling was slightly there before I applied a coat of paint.
Just to point out, all the canns applied were bought from a auto paint supply and were to be compatable with each other.
here what I'm using
At this point I will need to start over from the beginning, strip back to bare metal again. Bummer!!
I'm determined to do this repaint with spraypaint and could really use some help here.
Maybe the frame was not prepped correctly and when the paint adhered to the primer ....hell, I'm lost at this point.
Last edited: