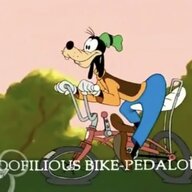 I'm the Wiz, and nobody beats me!
Aug 13, 2008
10,810
The Land of Oz
Good day and Happy New Year,
How would I go about taking apart this speedometer? I need replace the lens and probably clean / re-lube all the internal parts. the face and cosmetics need cleaned too. This is the original speedometer from my bike and I really want to make this beautiful again, AND functional.
The way I see it I have to remove the jam nuts on the back, and some how remove the chrome trim ring that is pressed on. How do I remove it without destroying it or damaging the speedometer further?