Wore out three sets of tires already!
REPRODUCTION conical shaped name badge steering head dust covers for COLUMBIA LIGHT ROADSTER and EXPERT COLUMBIA model high wheel bicycles.
The script is deeply pressed into the badge (not etched into the surface) from a very detailed press die that presses all the script into the metal in one pressing when it is in the flat state prior to forming to it's final conical shape. It is then polished, nickel plated and finally buffed to a bright luster.
Excellent reproduction ready to slide & snap onto your antique Columbia high wheel steering head.
Perfect to complete your restoration or replace a missing dust shield name badge.
(For LIGHT ROADSTER COLUMBIA) Top script reads: COLUMBIA LIGHT ROADSTER MADE BY THE POPE MF'G. CO. PATENTED
19 PATENT DATES with one below the top script and 9 vertically along each leg of badge.
First patent date below top script is JAN. 3, 1869 to last date of Feb. 24, 1885
ONLY TWO MORE COLUMBIA LIGHT ROADSTER DUST SHIELDS LEFT !!!!!
(For EXPERT COLUMBIA) Top script reads: EXPERT COLUMBIA MADE BY THE POPE MF'G CO. PATENTED
18 PATENT DATES with 9 vertically along each leg of badge.
Top left date reads Nov. 20, 1866 and last date on lower right reads Dec. 13, 1881.
I only have a limited supply of these EXPERT badges so get one while they are still available.
$175.00 each plus shipping cost of $8.45 in a USPS Small Flat Rate Box to the lower 48 states only.
Shipping cost to out of country buyers will have to be calculated at time of purchase.
Mike Cates
(760) 473-6201 Voice Calls Only and No Texts please
Email:
cates0321@hotmail.com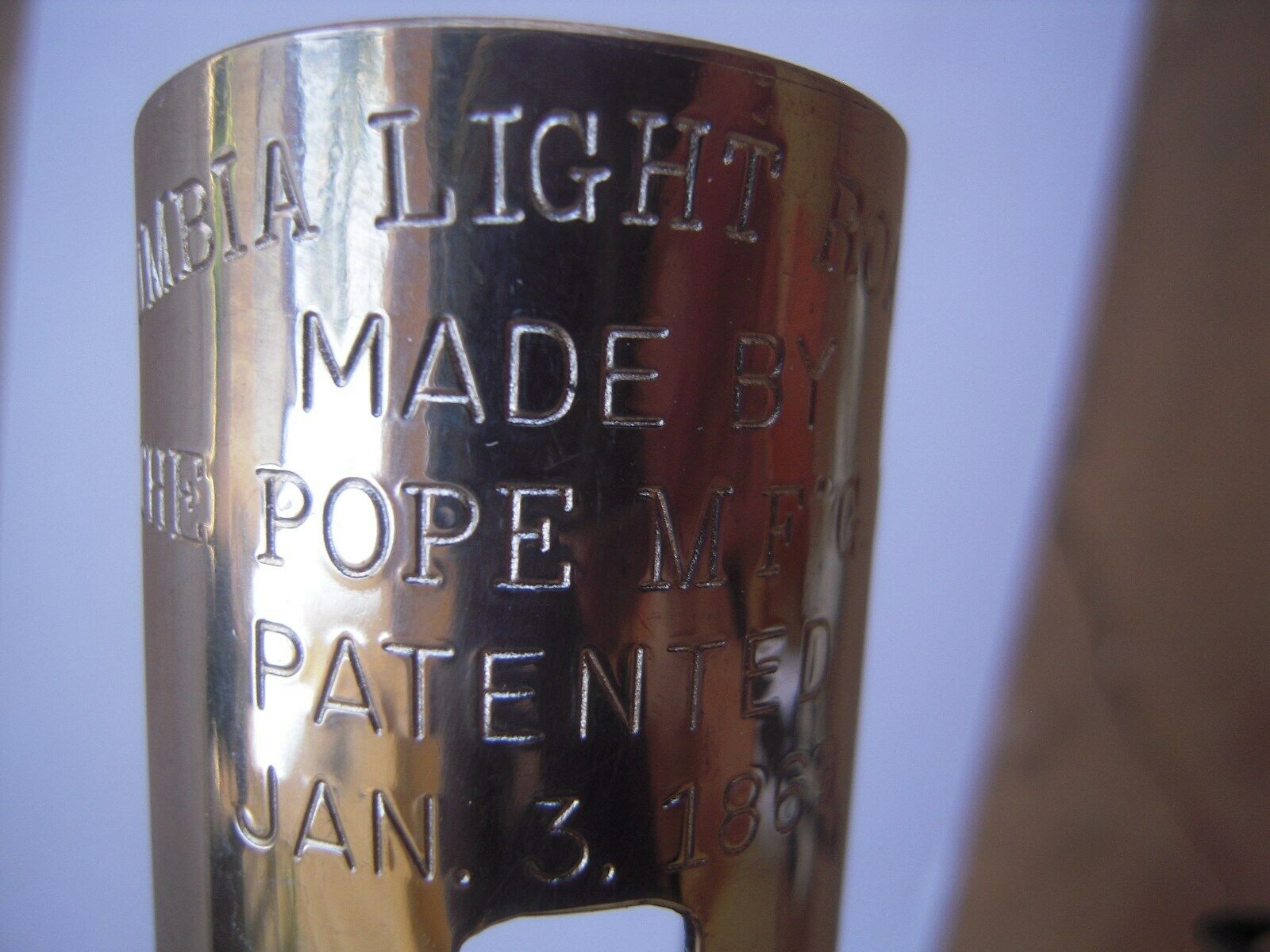 Last edited: