Wore out three sets of tires already!
Hello Cabers. I used to be on the CABE daily. Then, as they say, "life got in the way" and I fell off the radar. I had decided to move, which required months of non-stop work to get the old house ready for sale. After about 2 months in the new house, thieves burned down my garage. Fortunately, most of my complete bikes (about 45) were stored elsewhere, but about 20 project bikes together with all my parts, wood rims, saddles, etc. were in the fire which was hot enough to melt my child's aluminum bike. Then my second marriage started to fail... 2021 was undoubtedly the worst year of my life. I might start a separate thread about the fire and aftermath, but here I would like to mark my return to the CABE by talking about a recent project I completed.
2022 was the 100th anniversary of Canadian Tire. If you've ever travelled to Canada you've probably driven past several locations of this hardware mega-store chain. The execs decided to mark the occasion with a good old-fashioned "industrial musical" (see Wikipedia). I was approached by a theatre set designer who said they needed a 1922 Ladies bike that looked like new. The musical was to open with a girl pushing her mother's bike - with flat tire - across the stage to an actor playing the founder of Canadian Tire. He would pump up the tire for the girl and presumably lots of singing would follow. Of course, I had all the necessary bike parts to make it happen. The designer said: "I want to pay you two-thousand dollars to restore the bike and lend it to us. You can keep it when the musical is over." I took about a half a second to agree.
Here is the bike I chose to work with - the "before picture." It's a circa 1920-22 CCM Gendron. I bought it several years earlier because it had a very nice and rare badge for CCMs, I could see that the fork was originally nickel plated at the bottom section, not painted like all the other CCMs I had seen, and it had holes for a fender skirt. I had thought it had potential to become something really special:
The goal was to make it look like this 1921 CCM catalogue image, and make it look like new: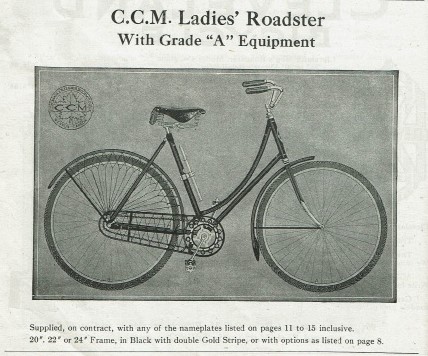 More to come...
Last edited: