Finally riding a big boys bike
Good evening everybody, hope you are doing well! I have been wanting to share with you a project I've been working to complete for the last 2 years, and a few days ago, I got it all done and road ready. This is a 1917-18 Montgomery Ward's Deluxe Flyer bicycle. I was turned on to this project here on the CABE, when it went up for sale in Michigan, and I ultimately bought it and restored it. A number of the parts used in the restoration, I obtained from fellow CABEr's, so thank you to everyone who had a part in this!
This model was one of the most deluxe and expensive bicycles available at the time, and with a catalog price of $34-$39, in today's money is equivalent to about $725. So it is definitely deluxe. The restoration took at least 150 hours to complete, probably more, over the course of 2 years. Many parts were missing, sections of the frame required re-tubing due to rust out, and in order to keep within budget, I used parts that all required substantial restoration, so it just took a stupid amount of time and work, but it was worth it. The bike retains its original frame, badge, toolbox tank, rear fender, seat post, handlebar stem, and some other parts. Any parts that were missing, I ensured were replaced with the correct parts, buy and large as were shown in the catalog, such as the luggage rack. Even all of the screws are old style, with square nuts. The wheels are genuine, 100+ year old maple wood tubular tire rims, straitened and reconditioned, with brand new tubular tires. I have installed a 1910s Corbin Coaster hub, and each wheel took me probably 25 hours to complete. The teeth on that hub were heavily worn and curved likes shark's teeth, so I had to grind those down by hand which was mind numbing. The seat required at least 15 hours to reupholster, but it retains its original cushion, and to rebuild and complete the toolbox tank was probably 30 from start to finish. This bike appears to have been sitting out in the woods for decades, so some of the nuts and bolt took no less than a month, working on and off, to remove without causing damage to stuff. I'm just glad its all over now and I now have a nice fun bike that I can ride around town on. I'll even be riding it to our local cruise in here this weekend. This bike is surprisingly fast, and not too heavy either, maybe only 30 or 40 pounds, so with its high gearing can achieve nearly 20 miles per hour on level ground. It even climbs hills surprisingly well, so I was pretty impressed, but boy you can tell it's 100 years old when you go down a hill and get up some speed, everything starts swaying and moving and you better hold on tight! Thank you very much for reading, and for any comments or questions you may have!
After Restoration
Here is the bike before restoration, once I got all of the missing parts for it cobbled together
Before
After
Before
After
Before
After
The bottom bracket is one of those parts I mentioned that took a month to remove
1918 Catalog Advertisement- (Pulled from a previous CABE Thread)
This bicycle is now the 3rd frame-off restoration I have completed. Below are the previous 2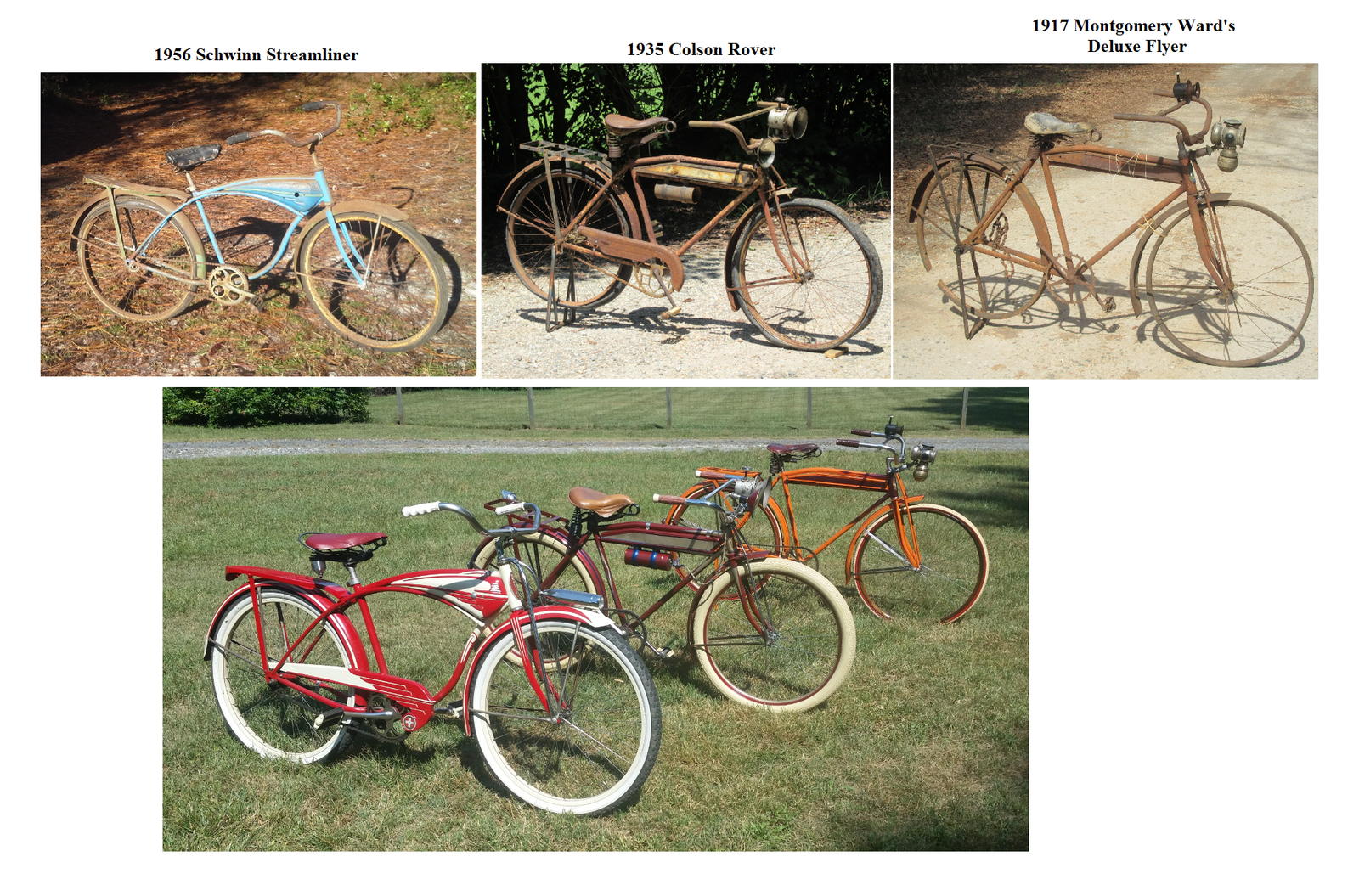 Last edited: