Posting this in response to a few folks that noticed this retrofit of a caliper brake in pics of my 54 Roadmaster.
Its not my design , but I like the idea. Have often thought it would be handy to have on a rider, especially on streets with alot of car traffic / intersections. Previous owner, primarily a lightweight rider installed this setup.
From what I can see, previous owner fabricated metal extensions to extend the reach of an Excel caliper brake ( typical of alloy calipers found on 1960's lightweight fender bike ) one could use a chromed English threes speed brake I suppose or even a BMX style caliper.
(Ive seem similar problem solver kits to extend reach out there sold on line)
The metal extension tabs are canted inward about 10 - 15 degrees to meet the wheel rim / arch around the balloon tire.
To mount the caliper to the fork, absent a brake mounting hole , in this case, cabinets bolts fit thru the slotted fork crown and metal mount bracket.
The bracket, fore and aft of the fork crown is in the same shape as a style of common rear rack mounting bracket. Receives cabinet bolts thin enough to pass through the slotted fork crown.
(Very well could actually be a rack bracket, however my guess is home made based on the scale. Seems larger than most rack brackets) If you are familiar with Pletscher / Wald rear carrier racks, you will recognize the shape: flat one side W shape other side.
If someone wanted to try this , I would suggest to first look for a caliper brake with wide a bow shape that clears wide tires and has long enough reach to begin with.
Just eyeing some of the calipers in my parts bin I can see that the fit could probably be achieved without the need to angle/cant the extensions or perhaps without reach extensions at all. The bracket for fixing the caliper to this style of fork apperas to me a clever solution, without the need to drill an original bike 's fork.
Posted below pics of what was done and hope those that asked find it interesting helpful.
I'm not looking to make any further modifications on this one. Though, I do like the practicality of a front caliper brake on a rider to supplement the coaster brake.
(Bike is for sale. If I were keeping , and had the time , I might experiment with a different calip brake and the same fixing method.)
Hope this answers those who asked.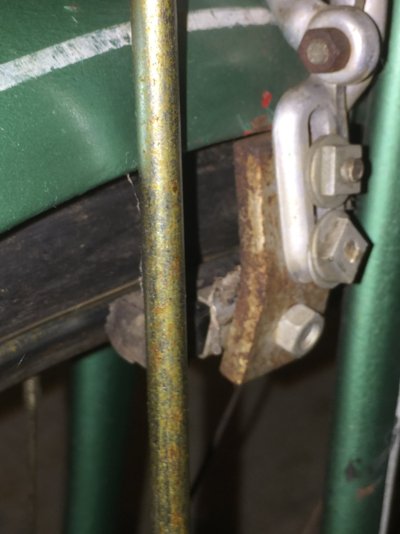 .)